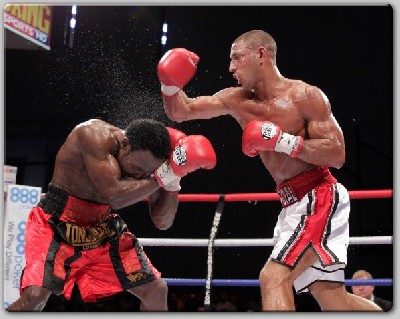 © Lawrence Lustig
Lovemore N'dou believes unbeaten welterweight star Kell Brook is on the brink of winning a world title.
Brook defeated the Australian-based South African in his first outing under new promoters Matchroom Sport, impressing all-comers in his first 12 round fight at the Hillsborough Leisure Centre in his hometown Sheffield.
N'dou has never been stopped in his 63-fight career but in the late stages of the fight, Brook had the sell-out crowd on their feet as the 39 year-old looked ready to go – N'dou held on though and he then told the 25 year-old that he will go all the way.
"Kell gave a great performance and I was the first one to walk up to him after the fight and whisper in his ear that he was going places as a fighter and will become World Champion someday," said N'dou.
"He will eventually win the World title as long as he is not pushed into deeper waters too soon. He has a great promotional company in Matchroom Sport behind him, I like the way they treat fighters. The respect and treatment they gave to my camp was tremendous. He also has a great training team in the Ingles. I wish him all the best in the future."
"It was a great performance from an up-and-coming prospect. He boxed a lot better than I expected. Kell is very accurate with his power shots. He showed speed, timing, accuracy, ring movement and power. He would have stopped any other fighter on the night but I'm just one of those fighters it's impossible to stop."
Brook will be back in the ring in the autumn in Sheffield as he builds towards a World title shot, and as Brook's star rises, big-name fights are on the agenda. N'dou has a draw with Matthew Hatton on his CV and believes that a fight between Brook and the Mancunian would be a winner.
"It would be a great fight," said N'dou. "Matthew has one of the toughest chins out there and his fitness is phenomenal. He proved against Saul Alvarez that he can take and handle a big shot. Kell on the other hand has great speed and moves well in the ring. It would be interesting."
Another fight on the agenda down the line is Brook versus Amir Khan. The pair have been involved in a war of words on Twitter after Khan questioned N'dou's credentials as an opponent. Brook suggested the pair meet in the ring and now N'dou has had his say on the WBA Light-Welterweight champ's comments.
"It's very disappointing for Khan to make comments like that," said N'dou. "He has to learn to give respect where it is due. He fought a lot of fighters over the hill when he was coming up.
"Khan needs to remember he is very amateurish and that's why he got knocked out in the past. Don't be surprised if he gets knocked out again by another nobody.
"Khan beat a shell of Paul Malignaggi who had already been in wars against me and the likes of Miguel Cotto, in fact Malignaggi hasn't been the same since the last two fights he had against me – Kell Brook has a great chance of beating Khan."