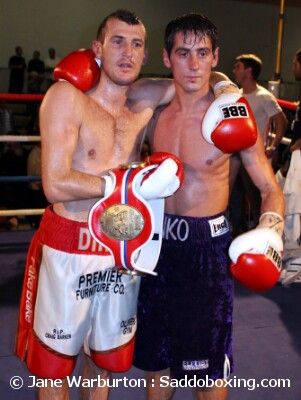 A packed Greenbank Sports Centre, Liverpool – saw a thrilling head-liner Saturday night, when 'Dirty' Derry Mathews forced a stoppage of gutsy Stephen 'Jenko' Jennings in the sixth round. There was plenty of support for both Liverpool fighters – with many of the crowd on their feet for the duration!
The surprise of the night saw Terry Needham lose out to Ingle-boxer - Dale Hutchinson by second round TKO.
The Stephen Vaughan Promoted fight-night featured six all-action contests – five of which were local boxers.
Derry Mathews (Liverpool) v Stephen Jennings (Liverpool)
Vacant British Masters Lightweight Title
The head-liner of the night raised the atmosphere at the Greenbank Centre, with lots of rowdy support for both men.
It was an all-action contest with both boxers busy from the start. Jennings piles on the pressure in the closing seconds of the opener forcing Mathews part-way through the ropes. It was all a bit frantic still in the second round with the two men eager to score. Team Mathews urges their charge to 'slow down'. 'Dirty' Derry throws body-shots with success in the third frame and 'Jenko' just misses his mark with a couple of wide swinging shots. Jennings finds himself on the canvas at the end of the fourth and will have been relieved to hear the bell. But despite his gutsy determination – brave Jennings was down twice more in the fifth, his nose bloody from the shots. Mathews was deducted a point for hitting 'back of head' but it made no difference to the ending. Pressured against the ropes in the sixth round, Jennings was stopped by a carefully-watching Steve Gray – just as the towel was thrown in by his corner.
Mathews wins by sixth round stoppage and now goes on to face Gavin Rees for the European Lightweight Title.
Mathews's record now stands at 29 wins (15 by KO) 5 losses (5 by KO) while Jennings drops to 5 wins (2 by KO) 1 loss (1 by KO) and 1 draw.
Despite the pre-fight feuding between the two Liverpool men – it was all smiles and respect after the fight!
Adnan Amar (Nottingham) v Matt Seawright (Tamworth)
4 x 3 Welterweight Contest
Current English Welterweight Champion – Amar, faced last minute opponent – experienced Matt Seawright. Confident Amar wound up the big shots in round three but it was a messy fight. Amar gets the points win (40-36) and improves to 24 wins (7 by KO) 1 loss (1 by KO), while Seawright's record now stands at 3 wins 49 losses (10 by KO) and 2 draws.
Terry Needham (Liverpool) v Dale Hutchinson (Sheffield)
6 x 2 Welterweight Contest
Both men were caught with shots in the first round. Needham seemed a bit too over-enthusiastic – which cost him a couple of mistakes. In the second round, Hutchinson was deducted a point for use of the elbow (in the face of Needham) then moments later catches Needham with a shot and – pressuring him back on the ropes – his opponent goes down. Needham gets up but his legs are far too unsteady and he is stopped by Referee Steve Gray.
Hutchinson – who seems to have found his winning form - wins by second round stoppage and improves to 2 wins (1 by KO) 5 losses (4 by KO) and 1 draw, while Needham drops to 3 wins (1 by KO) 1 loss (1 by KO).
James Dickens (Liverpool) v Chuck Jones (Wales)
4 x 3 Featherweight Contest
Both boxers had to wait around in the ring prior to fighting, while they awaited the return of a ringside Doctor. But once under-way, 'Jazza' Dickens looked relaxed and focussed – performing well against Welshman Jones to secure a points win 40-36. He improves to 4 wins (no losses) while Jones 's record stands at no wins 5 losses and 1 draw.
Joe Tonks (Liverpool) v Robin Deakin (Crawley)
6 x 2 Lightweight Contest
Both men get off to a good start in this six rounder, but Tonks lands a decent punch to the head of Deakin in the closing seconds of the opener and the Crawley man clearly 'felt it'.
Deakin is forced to take a count in the last few seconds of the third round, but sees it though to the end of the contest, with Tonks securing the points win 60-53. Tonks improves to 2 wins and 2 losses while Deakin drops to 1 win 34 losses (8 by KO).
Kevin Satchell (Liverpool) v Delroy Spencer (Wolverhampton)
4 x 3 Flyweight Contest
'Satch' kept busy to outpoint veteran Spencer (40-36).
Satchell improves to 6 wins no losses, while Spencer's record now stands at 14 wins (1 by KO) 120 losses (12 by KO) and 3 draws.