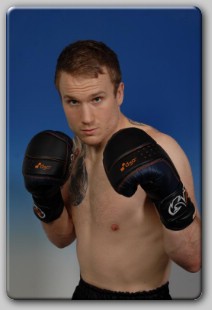 Alloa born Scott Hartley fights professionally with London promoter Miranda Carter, who runs regular shows at York Hall, 'the home of British boxing'.
Scott is now training with Kevin Campion and plans to campaign at super-middleweight.
On his debut at York Hall on Sunday, 13Th November, Hartley recovered from a first round knockdown to produce a draw with Preston hardman Stuart Maddox. Caught by a right at 2:23 into the fight, Hartley was cut on the forehead and on wobbly legs but then put on what promoter Miranda Carter called "a lionhearted display" to last out the round and then come right back into the contest.
Scott showed his boxing skills for the remainder of the bout to counter the power shots coming from the heavier Maddox. After four rounds referee Ken Curtis scored the fight 38-38.
Scott kindly gave SaddoBoxing the opportunity to interview him after his first professional fight and this is what he had to say.
SaddoBoxing: Can you tell us how you first got started in the sport of boxing?
Scott Hartley: I started boxing in the Royal Navy, trained a little as a kid but loved rugby so boxing could never take centre stage. When I finally got into it onboard HMS Invincible with MEM Matt Phillips, I never looked backed. Training in the hangar by Harrier planes or on the quarter deck sailing along the Middle East was fun.
SB: Can you tell us at what age did you actually make your amateur debut and from that experience could you give us your feelings of what it felt like to step into the ring for the first time?
SH: I was 19 and it was in the hanger of HMS Invincible docked at Marseilles. How I felt, was just a different class of excitement. All the lads from the Marine engineering section screaming for me, it was awesome experience.
SB: In your amateur days, who would you say is the fighter that gave you most difficulty and could you tell us why?
SH: I'm not going to lie and say it was somebody that was great that I boxed on my International trips, it was a lad called Sean Allison. I boxed him three times and he won the first two, which I thought I won the first but judges decide our way. Last time together I took it, not a problem. Just, he was so tall his jab caught me a lot. Annoying!
SB: For the fight fans that have yet to see you fight, can you please describe your fighting style?
SH: I'm hard working and aggressive. I love to go forward but I do have the skill to box on the back foot. I just enjoy fighting, so sometimes I need to learn not to be dragged into a punching match, but if it has technical aspects to it fans love it!
SB: The best fighters on the planet have advantages and disadvantages; what would you say are yours?
SH: My advantages are my heart, willingness to train harder than the man next to me, my engine, my sheer drive to win and provide for my family. Disadvantages can be that work rate too, I don't know how to rest and because I want to do so well, I allow my heart to decide rather than my head.
SB: I know that a lot of fighters have problems adjusting to the professional rules...etc, so what changes have you had to make?
SH: Slowing my feet down and following through a little more with punches. I was trying to score rather than hurt sometimes but apart from that, my style suits the pro ranks.
SB: Now that you had your first professional fight on 13Th November at York Hall, Bethnal Green in London which witnessed you knocked down by Stuart Maddox in the first round, only to get back up off the canvas to claim a drawn contest, could you talk us through the fight and the lead up to the fight's finish?
SH: Going into the fight I was a lot calmer than what I would have liked to have been, so feel this is why I got caught with a stupid punch. Even though that five seconds of stupidness caused the draw, it also made me realise I wasn't boxing at a high enough pace. It did make me think about what I was throwing because if I ended up back down I would have had no chance to win, so I was very thoughtful about throwing anything stupid.
I do feel if I hadn't been put down I would have won the fight 40-36 but hindsight is a great thing! It was a great experience and I'm very happy to have had a strong and durable opponent that came to fight in my first fight. Much has been learned!
SB: I interviewed your coach Kevin Campion, who is a great guy, last week; how big a part is he playing in your young professional boxing career, Scott?
SH: He is a great coach because he loves this sport but he loves his fighters too. How many coaches would take a 150 mile round trip to make sure you can train? He goes that extra mile which makes you as a fighter feel like you're wanted to be there. This makes you want to work again. Plus he has a bit of good banter about him to.
SB: I know its early days in your pro career, but where do you see yourself going or what route would you like your career to to take from here?
SH: I'm not going to lie and say I don't want to be fighting for titles as soon as possible but that's not my choice, the board and my manager all deal with that but I just want to work hard, excite fans and make my family and myself proud. I know I will get those chances soon enough
SB: Which fighters are an inspiration to you, Scott?
SH: I am a Roberto Duran fan through and through. That's a boxer to me, his style was what people wanted to watch but Hagler, Hearns and Leonard were all amazing too. I remember sneaking up to watch Lewis and Hamed fights on ITV, though. They made boxing be in my heart from an early age.
SB: If you could fight any super middleweight tomorrow, who would it be and why?
SH: I'm not there yet, the guys at the top of my division have had to pay a massive price to be there and I have not earned enough respect
in the sport yet to even say I'd like to share a ring with them. Maybe one day though!
SB: Finally, Scott, is there anything that you would like to say to your followers who will be reading this interview?
SH: All I'd like to say is thank you for reading and I hope that you all enjoy watching my career and that we all make it as far as our dreams want!