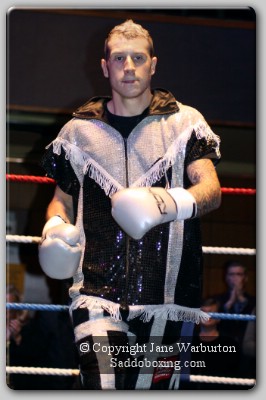 Click the above Image for more Photos from this Event
At the Wolverhampton Civic Hall last night, 'ONE Promotions' (Paul PJ Rowson) hosted a fightnight which headlined a ten round Light-Middleweight Contest between Jason Welborn of Tividale and Jan Balog of the Czech Republic.
Jason Welborn (Tividale) v Jan Balog (Czech Republic)
10 x 3 Light-Middleweight Contest
Welborn must have hoped for an easier win last night when he faced Balog in the opening round. Looking like he could do with some toning up (!) the Czech man was warned by the end of the first frame for 'slapping' rather than punching! But this boxer turned out to be a tough cookie for the Tividale man! At times Balog looked like he might be stopped when Welborn upped the pressure but it had the opposite effect and just made Balog return with a flurry of shots. Welborn digs in a body-shot in the fifth and Balog goes down. Welborn goes after him with more body-shots but is warned for pushing away with his elbow.
Balog gets a breather after receiving a low blow in the eighth and is warned for 'slapping' again in the ninth. He finds himself on the canvas again in the tenth from another body-shot but he comes back fighting – pressuring Welborn on the ropes briefly.
At the end of the tenth and final round, Balog gets well-deserved applause from the Wolverhampton crowd – appreciating this mans tenacity. Meanwhile, Welborn forgets to wait for the decision as he gets out the ring only to be called back by Referee Messer!
Welborn wins on points 100-89 (his opponent down twice – rounds 5 and 10).
He improves to 11 wins (5 by KO) 1 loss (1 by KO) and now faces Frankie Gavin for the BBBofC British Welterweight Title in January.
Balog drops to 2 wins 10 losses (2 by KO)
Tom Costello (Chelmsley Wood) v Norbert Szekeres (Budapest)
6 x 3 Middleweight Contest
Costello wins impressively by 3rd round Tko. Late opponent Szekeres from Budapest managed to sneak through Costello's high guard a couple of times but Costello laid in to him with body shots. It was one such crippler that caused the knockdown. Szekeres stayed on his knees and was counted out by Referee Shaun Messer.
Costello improves to 12 wins (5 by KO) no losses and 1 draw.
Luke Paddock (Bloxwich) v Matt Seawright (Tamworth)
4 x 3 Light-Welterweight Contest
Debutant Paddock faced experienced Seawright in his first pro-outing but secured a points win 40-37 to get 'off the mark'.
Seawright's record now stands at 3 wins 68 losses (14 by KO) and 4 draws.
Andrew Robinson (Birmingham) v Dan Phelps (Trowbridge)
4 x 3 Super Middleweight Contest
Phelps spent much of round one covering up, but picks up the pace in round two. Robinson aka 'The Animal' (who was well supported) secured a points win 40-36 and improves to 3 wins (1 by KO) no losses while Phelps drops to no wins 4 losses (1 by KO)
Chris Keane (Walsall) v Moses Matovu (Bangor, N.I.)
6 x 3 Cruiserweight Contest
Keane also had big support from the crowd, but seemed to be 'waiting' a lot – rather than driving forward. Matovu picked it up in the third round with flurries of shots and kept us entertained with his chat during round six ! Keane gets the points win 60-54and improves to 8 wins (3 by KO) while Ugandan-born Matovu drops to 4 wins 20 losses (2 by KO) and 3 draws.