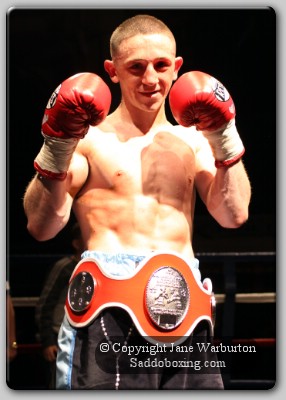 Click the Image for more Photos from this Boxing Event
James 'Jazza' Dickens of Liverpool has added a second belt to his name by winning the vacant British Masters Silver Super-Bantamweight Title. 'Jazza'- who won the vacant British BBBofC English Super-Bantamweight Title in March, last night outpointed Welshman Dai Davies of Merthyr Tydfil (99-93).
Steve Wood of VIP Promotions hosted the event at Liverpool's Olympia which featured ten undercard bouts.
Undercard Results (Full results to follow):
Louis Cuddy v Patrik Palik
6 x 3 Cruiserweight Contest
Cuddy wins by TKO Round 1
Carl Dilks v Elvis Dube
4 x 3 Cruiserweight Contest
Dilks on Points (40-36)
James Tennyson v David Kanalas
6 x 3 Featherweight Contest
Tennyson by second round KO
Ryan Farrag v Najah Ali
6 x 3 Bantamweight Contest
Farrag on Points (59-57)
Steven Lewis v Jozsef Garai
4 x 3 Welterweight Contest
Lewis by First round TKO
Nathan Brough v Jason Nesbitt
6 x 2 Light Welterweight Contest
Brough on points (60-54)
Ryan Burnett (Debut) v Laszlo Nemesapati
4 x 3 Super Bantamweight Contest
Burnett by first round KO
Wayne Adeniyi v Moses Matovu
4 x 3 Cruiserweight Contest
Adeniyi on Points (40-35)
Tommy Carus v Liam Ellis
4 x 3 Light Welterweight Contest
Carus on Points (40-34)
Dean Swanson (Debut) v Kristian Laight
4 x 3 Lightweight Contest
Swanson on Points (40-37)