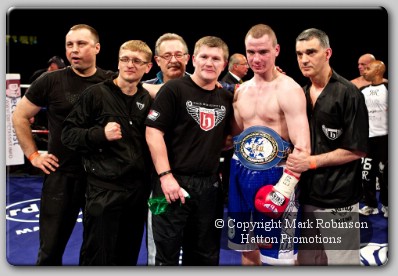 Hatton Promotions international matchmaker Philippe Fondu thinks Sergey Rabchenko's European light-middleweight title defense versus Emanuele Della Rosa will offer the ideal springboard to a world title chance.
Sergey Rabchenko is rated as the number 1 challenger Saul Alvarez's WBC title, whilst Italy's Emanuele Della Rosa occupies the same sanctioning body's number 4 spot.
The European Boxing Union (EBU) has required purse bids to be opened on Tuesday June 18 and Hatton Promotions, if successful in the process, hope to get Rabchenko home advantage.
Because both boxers having such high rankings, Fondu believes victory for their guy will pave the way for a chance on the world stage.
"A good victory for Sergey Rabchenko versus Emanuele Della Rosa should definitely establish Sergey as the leading contender in the light-middleweight division," he said.
"A world title bout opportunity would subsequently turn into a reality and should not be far away."
Fondu, who manages a number of Europe's best up-and-coming boxers, believes part of Sergey's rise to the top can be attributed to him linking up with four-time world champion Ricky Hatton in 2012.
Their first fight together saw the unbeaten Belarusian lift his European championship by beating Ryan Rhodes. Since then he's scored two more victories and added the WBC's silver title to his collection.
"Sergey has very much improved since Ricky Hatton became his coach and the chemistry between the two is absolutely fantastic," Fondu stated.
"Against Ryan Rhodes, it led to a fantastic stoppage in the middle rounds and lately, against Adriano Nicchi, a three-time Italian champion - it was all over in two.
"Emanuele Della Rosa will be his best opponent yet. His record is impressive and his sole loss, a controversial split decision, was in Germany against then top champion Sebastian Zbik."
Ricky Hatton said: "I'm looking forward to Sergey's potential defence against Emanuele Della Rosa as it's a great match.
Della Rosa is very talented and has a decent world ranking so this is not an easy fight by any means, but I'm confident Sergey will win and push on towards that world title shot."