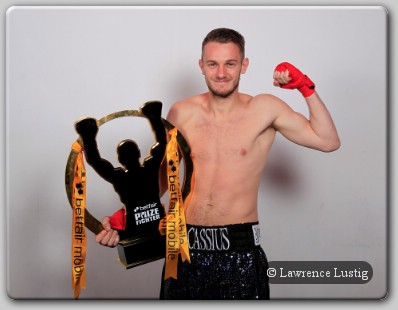 Danny Connor believes victory in Saturday night's sold-out Prizefighter Light Welterweights III will make him the British 'Cinderella Man' after turning his career around.
The Surrey fighter failed to win any of his first five fights and was 5-5-1 when he edged out Tyler Goodjohn for the British Masters Welterweight title in May 2012, and followed that with two impressive wins over Chris Evangelou for the Southern Area belt in September.
The draw will be shown on Ringside tonight at 6pm on Sky Sports 1 HD and Danny Connor is certain to be one of the favourites, and the 27 year old says Saturday night could be the latest forward step in his rapid rise.
"If I win this – or when I win this because I am confident of winning – who knows, I could get a British title shot out of it and I would be the British 'Cinderella Man'," said Danny Connor.
"It'd be great to have Prizefighter champion on my CV. The money is great as well; £32,000 is a lot of money to put towards anyone's career. But doing well in Prizefighter can shoot you right up the rankings, it gets your name out there again and it is massive, massive exposure on Sky Sports."
The first of his two bouts with Evangelou was a 98-94 success at Alexandra Palace in September and was disputed by Evangelou's team. The pair met again at Wembley in March, where Connor won 97-93 and twice had his rival down in the seventh round – finally putting the rivalry to bed.
"I thought I won both fights against Chris," he said. "I thought I did more work and better work in the first one but to be fair if it had gone the other way I wouldn't have complained. But I got the decision and Chris had a scream up about it so I gave him the rematch and beat him the second time.
"It was nice to put that to bed, get it out of the way and hopefully move forward with my career now.
A student of the game, not much gets past Connor and the popular Southern Area champion hopes that knowledge will play off on Saturday.
"I know everything about everyone who is in this Prizefighter," he said. "I love boxing and everything to do with boxing. I am always going to shows, watching fights on TV and reading up about my opponents, so it is a massive plus.
"I know Tony Owen really well, he is a busy southpaw and I have known him since we were kids. Charlie Rice is a pressure fighter who comes forward, Eren Arif is pretty much the same, Ryan Taylor is a big right-hand puncher, Chris Jenkins was a good amateur and is busy, a bit of a body puncher from what I have seen of him and Matty Tew likes to box but also likes to come forward and finish a fight as well.
"In terms of style I think Tony Owen will be a big threat. He is a bit of an underdog and people don't realise how good he is. He is really nippy, he can fight, he is quick; he has it all going for him. If I wasn't to win it – and I am confident I am going to win it – I would say Tony or Eren are the two I could see causing some upsets."
The 31st edition of the Prizefighter series is part of a great night of action in east London as lightweight star Kevin Mitchell returns to the ring from a ten month absence following his World title challenge against Ricky Burns in September, with the action kicked off on the night by former Commonwealth welterweight champion John O'Donnell in a four-rounder.