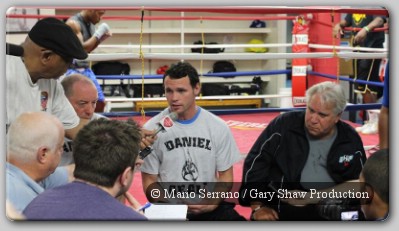 Australia's IBF middleweight champion, Daniel Geale (29-1, 15KOs) and No. 3 rated contender from the UK, Darren Barker, (25-1, 16KOs) held a media workout today at the Mendez Boxing Gym in New York City.
Geale will be defending his title on August 17th at the Revel Casino-Hotel, Atlantic City's newest and largest casino resort. The bout will be televised live on HBO Boxing After Dark beginning at 9:45 p.m. ET/PT.
Daniel Geale: "I'm feeling good as I'm starting to get fresher every day. I'm excited because I know it's going to be a great fight. Barker is going to come out hard and I know he's very hungry. I want to be pushed and I know Barker is going to that which is going to make for an exciting fight.
"Fighting on HBO is great. It's been a long time coming and I'm excited to fighting on such a great card. Gary Shaw and my team back home have done a great job getting me here and I just want to put on a great show. To all my fans please tune in because I'm going to bring that title home."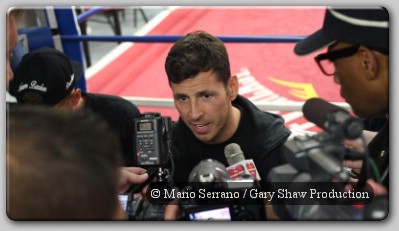 Darren Barker: "I feel extremely confident going into this fight. This is what I worked all my life. After nineteen years as a boxer from a kid to a man, it's all led to this moment. It's a dream come true. It's all about believing in myself and I believe its destiny. It's my time.
"Training has been fantastic. Mentally I've been in superb condition and now it's about executing my game plan. This time I'm going to win. To all my fans back home, I appreciate the support. It's great having a whole nation behind me. I look forward to seeing you all and I'll buy everyone a drink when I get back. It's going to be great to show you guys my new belt."
Gary Shaw: "People must not forget that Daniel went overseas and fought two different fighters and came out on top, both of them from Germany. That in itself is a major statement. Daniel Geale doesn't fight scared. He's an offensive fighter and a great counter puncher. His skills are highly underrated and you will all see him live on Saturday night."
Tickets prices start at $30 and are on sale now at all Ticketmaster locations, online at Ticketmaster.com and by calling 800-745-3000.