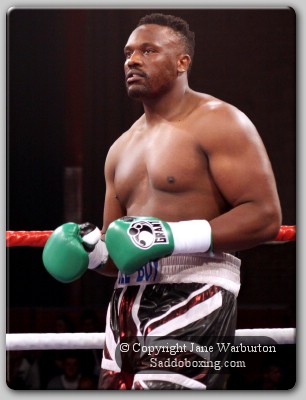 Yesterday, the winner of the purse bid between Finchley's Dereck Chisora and Liverpool's David Price was reported widely in the media as the promotional and managerial backers of the Zimbabwean born Chisora.
Chisora is a former World title challenger, ex-British and Commonwealth Champion, who is now the holder of the Heavyweight Championship of Europe. Price is the current holder of the British and Commonwealth Heavyweight titles.
It was first announced back in October that Chisora, who won the British Heavyweight title back in May 2010 after defeating Danny Williams at Upton Park, would be the mandatory challenger for the prestigious Lonsdale belt which is now currently in Price's possession. Price is aiming to become the first Heavyweight boxer from the great fight city of Liverpool to win the belt outright.
However, Chisora currently has an obstacle, in the shape of the Italian Heavyweight Matteo Modungo, to overcome in his maiden defence of the European Heavyweight title, which shall taken place on the 30th November at the Queen Elizabeth Olympic Park in London.
As for Price, he is still in a period of adjustment, having joined forces with Adam Booth since leaving long term trainer Franny Smith and is also in search of a top line British promoter who can help restart his once bright career, which came to a crashing halt against the experienced American Tony Thompson.
However, this contest, despite the purse bid being won by one of British boxing's most experienced and respected promoters, still needs to be agreed contractually.
Is a mouth watering contest between two of the most exciting Heavyweights in British boxing in shape of Finchley's enfant terrible Chisora and the hard punching and yet likable Scouse giant Price, which shall attract considerable interest both in and outside of the trade.
But yet, there is always the danger that politics and business may deny the fans of a match up that they so crave.