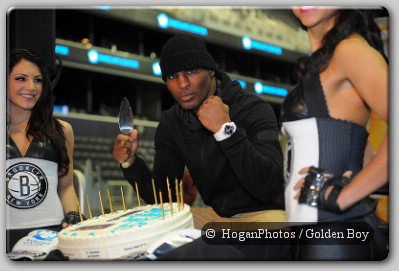 Current IBF Light Heavyweight Champion Bernard Hopkins turned 49-years-of age this week.
As the oldest champion in any major sport and one year shy of 50, Hopkins makes his own birthday wish, and provides some sage advice for his sport, young fighters coming up and the 40 and over crowd, a particular group of fans he enjoys fighting on for as his long and illustrious career continues.
Here are those wishes on this very special birthday:
Hopkins' biggest birthday wish:
"My birthday wish is to be the undisputed light heavyweight champion of the world. I want big fights in 2014. I want to fight twice this year. I know I can do it and be victorious."
Wish for the sport of boxing in the coming year:
"I want the 'cold war' to end in boxing. Everybody in boxing should do what's right for the sport and its fans."
Advice for young fighters:
"Young fighters should pay their dues and continue to train and learn their craft before they call themselves superstars."
Advice for the 40 and over crowd:
"A body that's moving is alive, a body that's still is dead. Be conscious of what you put in your body. Continue to be active and move your body."
Advice for young people everywhere:
"Young people have to learn from the mistakes and bad decisions of others and make sure they don't repeat them."