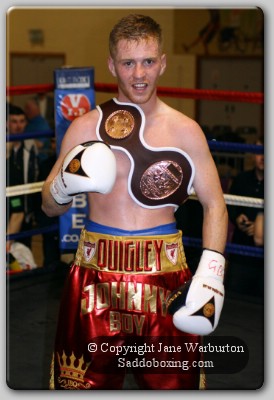 Click the Image for more Photos from the John Quigley Vs Joe Beeden Card
At Greenbank Sports Centre, Liverpool, last night – John Quigley made a successful return to British boxing after twelve months in the USA to win the British Masters Super-Featherweight Bronze Title. The Liverpool man defeated Joe Beeden of Swindon on points (80-72).
Flashy Quigley boxed with a no-guard style - gloves low at his sides. Quigley clearly dominated but Beeden was not about to give in and he kept up – seemingly unfazed by Quigleys obvious confidence. Clearly enjoying himself in the ring – the Liverpool man allowed himself rather too much show-boating in the eighth and final round which could have been to his detriment. But he goes on to secure the points win for the vacant title. Brother – former Light-Middleweight Boxer -Nick Quigley, was ringside to support.
Louis Cuddy (Liverpool) v Rolandas Cesna (Lithuania)
8 x 3 Cruiserweight Contest
'El Campeon' Cuddy looked trim as he faced late change of opponent - Cesna.
Cuddy was just starting to settle down in to the fight when he injured his left bicep in the fifth round. Wincing with pain during the intermission – he looked clearly frustrated, but continued with the fight despite the muscle looking visually out of shape. He wins on points 80-72 adding another win to his undefeated record (13 – 4 by KO).
Phil Smith (Liverpool) v Francis Croes (Middlesbrough)
4 x 3 Flyweight Contest
Croes looked 'snappy' tonight but 'Twinny' Smith targeted the head of the Yorkshire man and gets the points win 40-36
Ryan Vaughan (Liverpool) v Max Maxwell (Birmingham)
4 x 3 Light-Heavyweight Contest
'Mad Max' looked 'Fierce'! He fought with gritty determination - sending Vaughan to the canvas in the opener. He quickly got to his feet for the count. His timing seemed a bit 'off' but he finished the round stronger. Maxwell was in great form and it was no surprise that he got the points win 38-37
Dempsey Fury (Lancaster) v Harry Matthews (York)
4 x 3 Middleweight Contest
Entering the ring wearing a trilby hat - Dempsey Fury was well supported by family and friends including former Light-Middleweight Boxer – Phil Fury, who was stood ringside to offer support.
But opponent Matthews was not about to let Fury have an easy fight and matched the Lancaster man in terms of work-rate and effort. Both men had a good round three but it took its toll and Fury's work-rate dropped significantly in the fourth, he looked tired but gets the points win 39-38.
Jake Smith (Liverpool) v Graham Fearn (York)
4 x 3 Lightweight Contest
Smith gets the points win 40-36
Ryan Moorhead (Liverpool) v Qasim Hussain (Sheffield)
4 x 3 Super-Featherweight Contest
Moorhead notches up his third win of three on points 40-36
Adam Ismail (Liverpool) v Billy Campbell (New Cummock, Scotland)
4 x 3 Super-Flyweight Contest
Ismail gained his fifth consecutive win on points 40-37
Colin Farricker (Liverpool) v Elvis Dube (Derby)
4 x 3 Light-Heavyweight Contest
Farricker gets the points win 40-36 against experienced Dube.