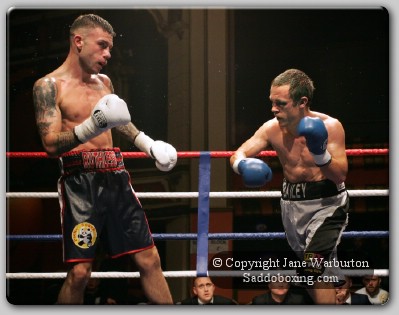 Click Image for more Ryan Doyle Vs Ian Bailey Photos
At Liverpool Olympia last night, Ian Bailey of Slough won the vacant International Masters Gold Super-Featherweight Title by stopping home favourite – Ryan Doyle of Gorton in the tenth and final round.
A thrilling contest saw Doyle sustain a nasty cut to the right eye in the fifth round from a clash of heads. He was stopped by Referee Phil Edwards midway through the tenth when he was seen to be taking too many shots.
The Steve Wood – VIP Boxing Promotions show featured ten undercard bouts and music from 'The Beatles' played throughout the evening to an enthusiastic crowd.
Undercard Results:
Ian Halsall (St.Helens) v Francis Croes (Middlesbrough)
6 x 2 Super-Flyweight Contest
Halsall wins on points 60-54
Chris Kelly (Debut)(Liverpool) v Duane Green (Norwich)
4 x 3 Light-Middleweight Contest
Debutant Kelly had a 'messy' first pro contest against Green and both men are 'told off' by Referee Phil Edwards two or three times for the amount of grappling. Referee Edwards scores it a Draw 38-38
Gary Davies (St.Helens) v Qasim Hussain (Sheffield)
4 x 3 Super-Featherweight Contest
No sign of ring rust on Davies – who hadn't fought since February 2012 and now faced an opponent several pounds heavier. Solid punches from the St.Helens' man but he was frustrated with Hussain who had a habit of holding on and was deducted a point for it in the fourth.
Davies gets the points win 40-36
Tom Farrell (Debut)(Liverpool) v Bheki Moyo (Earls Court)
4 x 3 Welterweight Contest
Debutant Farrell gets off the mark with a points win 60-54
Adam Ismail (Liverpool) v Kevin McCauley (Brighton)
6 x 3 Welterweight Contest
A 'lazy' first round for Ismail and the lack of work-rate during the fight saw McCauley literally waiting on the ropes for him to throw shots.
Ismail wins on points 59-55
Ryan Vaughan (Liverpool) v Elvis Dube (Derby)
4 x 3 Middleweight Contest
A good round two for Dube sees the Derby man get through with some solid shots.
Result is a draw 38-38
Nathan Wheatley (Debut)(Warrington) v Dee Mitchell (Manchester)
4 x 3 Middleweight Contest
Debutant Wheatley wins on points 39-38
Ryan Moorhead (Liverpool) v Joe Beeden (Swindon)
4 x 3 Super-Featherweight Contest
Moorhead wins on points 40-36
Joe Tonks (Liverpool) v Dan Carr (Trowbridge)
4 x 3 Light-Welterweight Contest
Tonks wins on points 39-36 despite sustaining a nasty cut to the left brow in the third round. Carr was deducted one point for use of the head later that round.
James Metcalfe (Liverpool) v Ryan Toms (Northolt)
6 x 3 Light-Middleweight Contest
Metcalfe wins by second round Knockdown