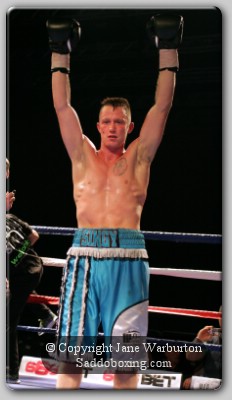 Click the Image for more Shayne Singleton Vs Nodar Robakidze Photos
Last night at the Victoria Warehouse, Trafford Park, Manchester, Steve Wood – VIP Boxing Promotions hosted another great night of boxing which featured thirteen contests.
The main event saw Shayne Singleton of Colne add to his undefeated record by stopping Nodar Robakidze of Georgia in the seventh round of their scheduled eight round Welterweight Contest. Singy – who was originally set to fight Sam O'Maison for the Commonwealth Welterweight Title Eliminator last night – was too strong for stand-in opponent Robakidze who was taking too many shots in the seventh and was halted by Referee Mark Lyson.
Also on the bill entitled 'Manchester Sound' – popular middleweight Jimmy Kelly junior of Wythenshawe outpointed (60-54) Dan Blackwell of Trowbridge over six rounds to improve his undefeated record to 12 wins.
There were also points wins over six rounds for Artif Ali, Liam Taylor, Jon Kays and Jack Massey, with points wins over four rounds for Alex Rutter, Andy Colquhoun, Rick Skelton Chris Jenkinson, Jake Bulger (Debutant), Ashley Peyton and Chris Conwell.
Undercard results as follows:
Artif Ali (Accrington) v Aivaras Balsys (Lithuania)
6 x 3 Super-Featherweight Contest
Ali on points 60-54
Liam Taylor (Middleton) v Ryan Hardy (Sheffield)
6 x 3 Cruiserweight Contest
Taylor on points 59-55
Jon Kays (Ashton-under-Lyne) v Ibrar Riyaz (Reading)
6 x 3 Lightweight Contest
Kays on points 59-56
Jack Massey (Chapel-en-le-Frith) v Mitch Mitchell (Lincoln)
6 x 3 Cruiserweight Contest
Mitchell on the canvas in round 1and deducted 2 points in total for holding.
Massey on points 60-51
Alex Rutter (Middleton) v Ryan Hanson (Sheffield)
4 x 3 Lightweight Contest
Rutter on points 40-36
Andy Colquhoun (Liverpool) v Scott Moises (Aylsham)
4 x 3 Light-Welterweight Contest
Colquhoun on points 39-38
Rick Skelton (Penrith) v Robert Studzinski (Llanelli, Wales)
4 x 3 Middleweight Contest
Skelton on points 40-36
Chris Jenkinson (Bolton) v Dee Mitchell (Manchester)
4 x 3 Light-Middleweight Contest
Jenkinson on points 40-37
Jake Bulger (Debut) v Qasim Hussain (Sheffield)
4 x 3 Lightweight Contest
Debutant Bulger notches up his first pro win on points 40-35 but Hussain gets deducted a point for stamping his foot.
Ashley Peyton (Atherton) v Kevin McCauley (Brighton)
4 x 3 Light-Middleweight Contest
Peyton on points 40-36
Chris Conwell (New Moston) v Kristian Laight (Nuneaton)
4 x 3 Light-Welterweight Contest
Conwell on points 40-36