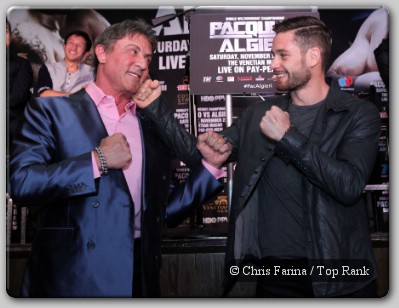 WBO junior welterweight champion Chris Algieri made his final appearance in Los Angeles before heading off to The Venetian Macao to challenge reigning WBO welterweight champion Manny "Pacman" Pacquiao.
Algieri (20-0, 8 KOs), from Huntington, NY on Long Island, who has Bachelor of Science degree in Health Care Management and a Masters degree in Clinical Nutrition, hosted a Los Angeles press conference luncheon on Thursday, at The Conga Room.
International motion picture superstar Sylvester Stallone paid a surprise visit to the press conference so he could see his real-life "Rocky" image in-person.
"In my business life imitates art. But in Chris' case I think it's the other way around," said Stallone. "Watching Chris rebound from those two first-round knockdowns against Ruslan Provodnikov and out-box him the next 11 rounds to win the title was more than an upset. It was Rocky-esque.
"As for his fight against Manny Pacquiao on November 22, all I can say to you Chris is great movies deserve great sequels and I won't be the least surprised to see you give us one in Macao."
"It was the thrill of a lifetime," said Algieri. "When I put my arm around him to pose for a photo all I could feel were muscles. Boxing owes a great deal to 'Rocky' and Sylvester Stallone."
"Chris Algieri's story has captured the imagination of the sports world. It's all you read about in the United States and throughout Asia, not unlike Sly Stallone's, 'Rocky,' which did the same thing in 1976 and won the Academy Award for Best Picture," said Hall of Fame promoter Bob Arum.
Algieri, who spent the first four weeks of training camp in New York, moved his base of operations to Las Vegas enduring intensive training and conditioning for the remaining six weeks in preparation for his battle against Pacquiao (56-5-2, 38 KOs). Algieri departs for Macao next Wednesday night from Los Angeles.
Joining Algieri at the press conference was WBO featherweight champion Vasyl Lomachenko, WBA super lightweight champion Jessie Vargas and his new trainer, former four-division world champion Roy Jones, Jr., China's undefeated top five flyweight contender and two-time Olympic gold medalist Zou Shiming and Hall of Fame promoter Bob Arum.
Lomachenko and Vargas will be defending their titles while Zou fights in a world title elimination bout on the Pacquiao vs. Algieri WBO welterweight championship pay-per-view portion of the undercard.
Promoted by Top Rank and Sands China Ltd., in association with MP Promotions, Joe DeGuardia's Star Boxing, Banner Promotions and Tecate, the Pacquiao-Algieri world welterweight championship event will take place Saturday, November 22, at The Venetian Macao's Cotai Arena, and will be produced and distributed live by HBO Pay-Per-View, beginning at 9:00 p.m. ET / 6:00 p.m. PT.
An all-new special "Under the Lights: Pacquiao-Algieri" debuts Saturday, November 15 at 11:45 p.m. (ET/PT) on HBO.