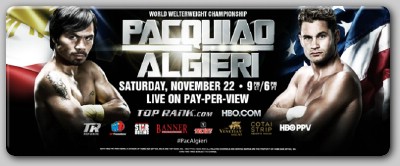 It's back to Macau, China for WBO welterweight kingpin Manny Pacquiao as Boxing's most accomplished weight jumper returns to the Cotai Arena this evening for a clash with WBO light welter boss Chris Algieri.
Is 35 year old Pacquiao, 56-5-2 (38), the same fighter who blitzed through elite competition to win world titles in six weight classes from 1998 to 2011 or is he just a short, aging southpaw who was exposed as such by Juan Manuel Marquez via knockout in 2012?
Chris Algieri will be the litmus test that determines where Pacquiao really stands after a 20 year, 63 fight pro career.
Algieri, 20-0 (8), seems to have sprung from nowhere to upset WBO 140 pound champ Ruslan Provodnikov in June but the 30 year old had, in reality, been quietly grafting away in the New York City area sine 2008.
Despite the surprise Provodnikov victory, Algieri's resume is very thin, with hsi only scalp of note that of Emmanuel Taylor in February.
Algieri was likely selected by Team Pacquiao for that very same lack of experience as the Filipino looks to keep busy with a minimum of risk as he holds out hope for the long awaited showdown with Floyd Mayweather Jr.
Yes, Algieri came back from a disastrous first round against Provodnikov, a former Pacquiao sparring partner, but it's quite another thing to face Pacquiao.
If Algieri does manage to upset the odds and actually defeat Pacquiao, it is a sure sign that Pac-Man is no longer the terror between the ropes he once was and he can definitely say goodbye to a Mayweather fight.
Once the bell rings, look for Pacquiao to test his challenger with a coordinated assault in the first round. If Algieri can handle the explosiveness and the punch of Pacquiao, he has a chance to pull off the upset on points by keeping the Filipino legend at the end of the jab.
But if not and Pacquiao can hit the target, look for a very one-sided beating with only Algieri's fitness determining how long he can last.
Chief support in Macau s provided by two world title clashes.
WBA light welter champ Jessie Vargas, 25-0 (9), will look to turn back the aspirations of former WBC lightweight beltholder Antonio DeMarco.
Slick stylist Vargas will have ex-multi weight world champ Roy Jones Jr in his corner but could have a tough time with the heavy-handed, durable DeMarco.
And Ukrainian super-novice Vasyl Lomachenko, 2-1 (1), will seek to retain his WBO featherweight strap against the ambitions of Thailand's Chonlatarn Piriyapinyo, 52-1 (33).
In a study of polar opposites, former two-time Olympic Gold Medallist Lomachenko has only boxed three times as a professional against top level competition while Piriyapino has faced a long list of lesser opposition, falling short in his only real test by losing to Chris John for the WBA crown in 2012.
The left-handed Lomachenko tends to start slow, giving the challenger a chance to take control of the bout early but look for the highly skilled counterpunching champion to take away the confidence of the Thai by the middle rounds before posting a points win.