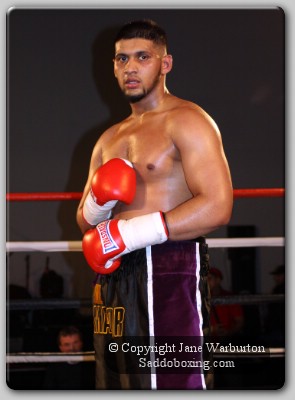 Click Image for more Photos from this Event
On Sunday afternoon, Oliver Harrison and Asif Vali promoted a show at Bolton Whites Hotel which featured six contests.
Results as follows:
Liam Conroy (Barrow-in-Furness) v Haider Sadiq (Rochester)
4 x 3 Light-Heavyweight Contest
Sadiq fell heavily to the canvas in the opening round but recovered to stand for the decision.
Conroy wins by round 1 KO
Marc Leach (Salford) v Francis Croes (Middlesbrough)
6 x 3 Super-Bantamweight Contest
A sharp performance from Leach who has Croes down in round 1 and goes on to get the points win 60-53
Osman Aslam (Debut) (Bolton) v Craig Derbyshire (Bentley)
4 x 3 Super-Bantamweight Contest
Aslam wins his first pro fight on points 39-37
Saqib Qureshi (debut)(Heywood) v Christian Hoskin-Gomez (Plympton via Spain)
4 x 3 Light-Heavyweight Contest
A nightmare first outing for Qureshi who was sent to the canvas twice in round one – the second time falling heavily. He recovered for the decision. Spanish-born Hoskin-Gomez gets the win by round 1 KO.
Arfan Iqbal (Derby) v Jakub Wojcik (Poland)
4 x 3 Cruiserweight Contest
Iqbal wins on points 39-38
Chris Healey (Stockport) v James Barnes (Newcastle-on-Tyne)
4 x 3 Heavyweight Contest
Healey was back in the ring after a 12 month break.
Barnes was on the canvas twice in the opening round and was finally stopped by Referee John Latham as the bell signalled the end of the opening frame.