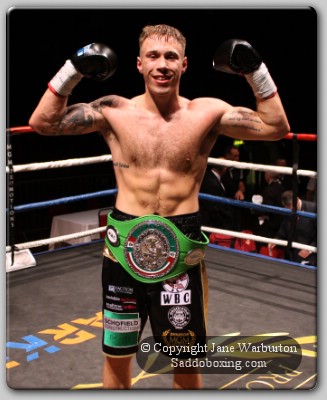 Click the Image for more Liam Conroy Vs Ferenc Albert Photos
At Preston Guildhall Saturday night, Liam Conroy of Barrow-in-Furness won the WBC Youth Light Heavyweight Title when he stopped Hungarian opponent - Ferenc Albert, in the fourth round.
Prior to the knockdown, Albert had his gum-shield literally punched out (!) Once retrieved, fighting recommenced and just moments later, after pressure from Conroy, he dropped to his knee in Conroy's corner. Albert failed to make the count and Conroy wins his first pro title.
Also on the Johnney Roye promoted show, Ashley Peyton of Atherton won the British Classic Challenge belt by outpointing Ibrar Riyaz of Reading (77-75) and Michael Ramabeletsa of Preston scored a TKO in round three over Polish boxer – Kamil Jaworek.
Full Results:
Reece McMillan (Morecombe) v Alec Bazza (Belfast)
4 x 3 Super Welterweight Contest
McMillan on points 39-37
It was a good round 3 for Reece who caught his opponent 3-4 times this round.
Jason Sillet v Ben Mullighan (Enniskillin, NI)
6 x 2 Lightweight Contest
Sillet on points 60-54
It was a good round 5 for Sillet.
Michael Ramabeletsa (Preston) v Kamil Jaworek (Poland)
8 x 3 Bantamweight Contest
Impressive win from Ramabeletsa who's opponent was down in rounds 1, 2 and 3. Ramabeletsa scores a TKO in 22 seconds of round 3. Referee John Latham stopped the contest.
Ryan Moorhead (Liverpool) v Simas Volosinas (Lithuania)
4 x 3 Super Featherweight Contest
Moorhead wins on points 40-36
Brandon Daord (Debut) (Birkenhead) v Sergey Tasimov (Estonia)
4 x 3 Flyweight Contest
Debutant Daord gets off the mark with an impressive points win 40-36
A nice boxer – quick, nifty footed and smart. He caught his opponent 2-3 times with decent headshots in the third.
Ashley Peyton (Atherton) v Ibrar Riyaz (Reading)
8 x 3 Welterweight Contest for the British Classic Challenge belt
It was a close call for Peyton who was caught 2-3 times in round 2 and looked to be getting frustrated by round 5. He was caught by a wild shot in the closing seconds of the seventh.
Peyton gets the points' win 77-76
Jordan Thompson (Manchester) v Remegijus Ziausys (Lithuania)
4 x 3 Heavyweight Contest
Flashy Thompson gets the points win 40-36
Jimmy Kilrain Kelly (Wythenshaw) v Deveidas Sajauka (Lithuania)
6 x 3 Super Middleweight Contest
Kelly wins on points 60-54
Kelly Slams in the body-shots with regularity, then is urged to do uppercut followed by body.
Sajauka was a tough opponent – he took a lot of body-shots but didn't go down.
Kelly warned more than once for use of elbow (shoving with elbow).
Liam Conroy (Barrow-in-Furness) v Ferenc Albert (Hungary)
10 x 3 WBC Youth Title Light Heavyweight
Conroy wins by TKO 3 minutes 5 seconds of round 4