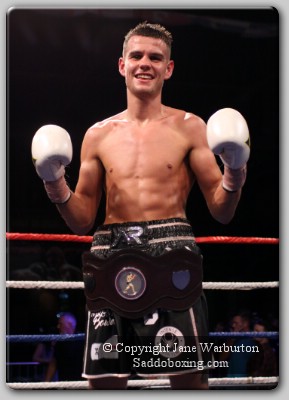 Click the Image for more Alex Rutter Vs Brad Botham Photos
Last night, at the Victoria Warehouse in Manchester, England, Middleton's Alex Rutter won the Central Area Super-Featherweight Title by outpointing Brad Botham of West Melton over ten exciting rounds (97-94). Rutter snapped in the body-shots from the 'off' and Botham's nose was bloody in the third round as 'Big Al' switched between head and body. But 'Beefy' Botham took the shots and stayed with it to provide a thrilling contest until he tired around the eighth round and Rutter stepped up.
The Steve Wood – VIP Boxing Promotions show saw a stacked bill of 13 contests in all, results as follows:
Zelfa Barrett (Moss Side, Manchester) v Reynaldo Mora (Barcelona via Nicaragua)
6 x 3 Lightweight Contest
Mora looked better than his record suggested and it was turning out to be an interesting fight then Barrett landed and Mora hit the canvas in the fourth round.
Barrett wins by TKO round 4
Adam Machaj (Oswaldtwistle) v Lukas Horak (Kosice, Slovakia)
6 x 3 Heavyweight Contest
'Heatseeker' Machaj had a different 'air' about him last night – he seemed more settled, in my opinion, but the result was no different – making short work of his Slovakian opponent. Machaj scored a TKO in 2.04 minutes of round 1 – Horak going down for the second time.
James Farrell (Liverpool) v Dmitrij Kalinovskij (Lithuania)
4 x 3 Cruiserweight Contest
Farrell wins on points 40-36
Adam Evans (Northwich) v Matt Seawright (Tamworth)
6 x 3 Super-Welterweight Contest
Debutant Evans scored a good points victory over experienced Seawright (60-54)
Jake Bulger (Failsworth) v Ibrar Riyaz (Reading)
4 x 3 Super-Lightweight Contest
Bulger wins on points 39-37
Chris Monaghan (Salford) v Robert Studzinski (Llanelli)
4 x 3 Super-Middleweight Contest
Studzinski is stunned by a body-shot in the last round and hesitated momentarily. 'Fatboy' Monaghan tore after him but, in his haste, got caught himself. The Llanelli man looked physically drained in the closing minutes. Monaghan gets the points victory 40-36.
Lee Carter (Gorton) v Radek Varak (Czech Republic)
4 x 3 Heavyweight Contest
Former Army boxer, 'Cartz', made his professional debut against Czech Boxer – Varak. A close contest but Varak had the confidence and edged the win on points 39-38
Arthif Daniel (Manchester via London) v Matthew Ashmole (Swansea)
4 x 3 Super-Welterweight Contest
Daniel wins on points 40-36
John Telford (Flixton) v Dean Gillen (Arnold)
4 x 3 Light-Heavyweight Contest
A close 'yo-yo' contest this one, with a thrilling round 2 from both men, but Telford wins on points 39-38
Luke Evans (Salford) v Kristian Laight (Nuneaton)
4 x 3 Super Light-Weight Contest
Evans wins on points 40-36
Ben Sheedy (Sale) v Dan Blackwell (Trowbridge)
4 x 3 Super-Middleweight Contest
Sheedy wins on points 40-36
Blackwell, who had said he was retiring earlier this year, was supported in the corner by big brother - Nick Blackwell, who collapsed following defeat to Chris Eubank Jnr in March.
Lee Oldham (Ashton) v Danny Little (Driffield)
4 x 3 Super-Middleweight Contest
'Sharpy' Oldham gets the points win 40-36