Before attentions are focused across the Atlantic to Showtime's American coverage, (presented in this article), Edinburgh, Scotland will witness the battle for the WBO super-middleweight championship between Welsh champion Joe Calzaghe and challenger Kabary 'The Egyptian magician' Salem. Calzaghe's latest title defense of his incredible reign comes against Salem, a native of Cairo who has been waiting to test his skills against the Welshman for many years. Both headline fighters are ready to give their all and the boxing world waits to see if Calzaghe's dominance can be undone.
Interestingly, Salem has recently sparred with the IBF light heavyweight champion Glen Johnson, the man once mooted as Calzaghe's step-up opponent but now world renowned for his destruction of Roy Jones Jr. The Jones fight was long sought by Calzaghe who should seek to dispose of Salem impressively before finally imposing himself upon the light-heavyweight division. That might be easier said than done though, as Salem has a reputation as an aggressive fighter with a penchant for head-butts, something the champion should be wary of if he is to escape with his championship and his skin unscathed.
Photo: TOM CASINO/SHOWTIME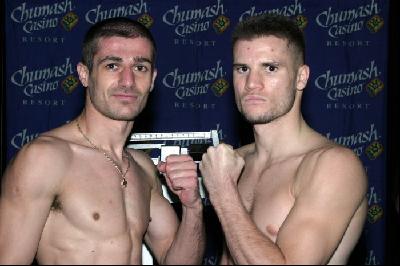 "Mighty" Mike Arnaoutis (left) and Jesse Feliciano both weighed 139 1/2 pounds Thursday for their NABO junior welterweight title fight Friday on "ShoBox: The New Generation'' on SHOWTIME at 11 p.m. ET/PT (delayed on the West Coast).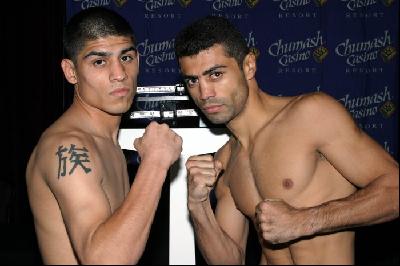 Agnaldo Nunes (right) tipped scales at 127 1/2 pounds and Isidro Granados weighed 125 3/4 Thursday for their bout Friday in the co-feature on "ShoBox: The New Generation'' on SHOWTIME at 11 p.m. ET/PT (delayed on the West Coast).