**With Slideshow and Audio Interview Stream**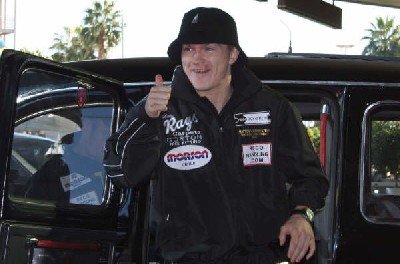 Click for larger image © Jane Warburton / Saddo Boxing
Tuesday saw the 'Grand Arrival' of Ricky Hatton and Floyd Mayweather to the MGM Grand in Las Vegas.
It was a beautiful morning boasting temperatures of 68 degrees and the atmosphere outside the MGM's lobby was full of excitement and anticipation as hundreds of fans packed around the front entrance and inside the foyer awaiting the 2 men to arrive.
First to arrive (in a limo I think) was Golden Boy - Oscar de la Hoya, looking calm as usual - De La Hoya looked to be enjoying the occasion.
Kerry Kayes was already at the MGM entrance when Ricky Hatton arrived sat alongside Billy Graham in a 'black cab'. They emerged to cheers from the waiting crowd and made their way inside the lobby area where a ring had been set up in front of a platform area where several TV screens behind them showed images of the Hitman and the Pretty Boy. Ricky Thanked the fans and then after a few words with the press - stepped down from the platform.
Floyd Mayweather arrived next. Standing up on the platform - he was booed by the waiting crowd (British AND American!). The fans were fuelled further when Mayweather began to sing 'There's only one...Mayweather'.
Press were then ushered to the MGM Grand Arena which was being prepared for Friday and Saturday nights' boxing. Mayweather sat on the edge of the ring as he spoke to awaiting media. When he'd finished speaking, his Mom sat alongside him as did Roger Mayweather and - the main star of the proceedings - little Lechy (Floyds' 2 year old son).
Floyd left the arena and as we waited for Ricky to arrive - Lechy got up in the ring. He began his own training session! And he knew all the moves and all the right actions! Shaddow boxing around the ring, he'd stop and throw a few shots into the air, then spring back on the ropes then skip around the canvas, stopping again to shadow-box.......we watched in amazement!
When the Hitman arrived in the arena - press gestured to him to turn around and see the little boy, so Rick jumped into the ring and Lechy (a bit overwhelmed..) ran off to Roger Mayweather. He was ok afterwards though and got his photo taken with the Hitman!
Billy Graham looked relaxed and commented that the ring was good and others spoke of the great views to be had from any seat in the arena.
Hear the full audio of the Hitman as he talked to the press.