Click for larger image © Jane Warburton / Saddo Boxing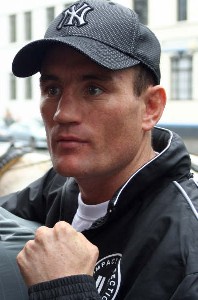 Last night, trainer Bobby Rimmer confirmed to SaddoBoxing that former British Super Featherweight Champion Michael Gomez is to face Peter McDonagh in a re-match billed as 'Redemption'.
The Irish Lightweight title fight promoted by Steve Woods / VIP Boxing, will be held at the Robin Park Arena, Wigan, England on May 23 - the eve of Ricky Hatton's fight against Mexican-American Juan Lazcano.
Rimmer was obviously delighted with the news and said that Gomez was "over the moon" to be getting a second shot at McDonagh.
Controversy surrounded the first meeting of the two men when they fought for the Irish Lightweight title in Dublin in January 2006. Gomez seemed to stop fighting during the bout and suffered a fifth round stoppage to McDonagh and then retired from boxing.
In 2007, under new trainer Bobby Rimmer, Gomez took to the ring again and has gained re-newed confidence having won three out of his last four fights.