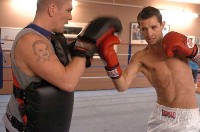 Image © Mike Cleary BoxingPhotographs.com
British super featherweight Steven Bell, 14-1 (5), has parlayed a heavily decorated stay as an amateur that saw him as Captain of Team England into a successful career as both a top level professional boxer and a burgeoning actor on some of his country's most popular current television shows and a highly acclaimed feature film.
SaddoBoxing had the good fortune to catch up with Steven as he continues his campaign to rule the 130 pound division in the British Isles and you want want to miss what the 32 year old had to say about his fascinating careers!
SaddoBoxing: How do you feel about your performance recently in beating iron-chinned light welter journeyman Baz Carey over six rounds?
Steven Bell: "Yeah, I have had two good wins now since that defeat [to Femi Fehintola] in October. I won every round against Carey without any problems and boxed the way I planned, so was happy with the performance.
SaddoBoxing: Was the short scheduled distance of the Carey fight a concern given that one or two bad rounds or a slow start against an experienced journeyman could mean a loss at a critical point in your career?
Steven Bell: "All fights at this stage over a short distance means you have to be on the ball and make sure you start quickly to prevent the opponent stealing the odd round, so yeah it's important to stay focused and always make sure you put the same effort in no matter how many rounds you do."
SaddoBoxing: "The high points of your time in the paid ranks to date seem to be the wins over Commonwealth Games Gold Medallist Haider Ali and former British Featherweight Champ Jamie McKeever, while the toughest moments were the one point loss to Femi Fehintola for the English crown and the draw against the vastly under appreciated Buster Dennis; if that is an accurate assessment, what did each of those fights teach you?
Steven Bell: "Yes, I've had some tough fights and learned a lot from each of them. I have made mistakes like any fighter does from time to time, but have also improved by fighting the opponents I have. I think the loss to Fehintola was the biggest kick up the backside and gave me the determination to become a much better fighter."
SaddoBoxing: There are some fast rising up and coming super feathers in Britain today, such as Akaash Bhatia and Paul Appleby as well as more seasoned contenders as Carl Johanneson, Steve Foster Jr, Michael Gomez, Fehintola and Billy Corcoran; what is your take on the division at the moment and who would you fancy facing as you continue to climb up the ladder?
Steven Bell: "I think the super featherweight division is by far the best in Britain at the minute and domestically, some great fights could be made. My main aim is to be the British number one, so would have no problems in fighting any of the top five at this time. With Gomez and Foster also at super feather, a local battle is on the horizon to see who is the best!"
SaddoBoxing: Kevin Mitchell now holds the British and Commonwealth titles at ten stone four/130 pounds; what did you make of his performance in stopping Carl Johanneson recently and how do you rate your chances if you have the opportunity in the near future to challenge Mitchell for those belts?
Steven Bell: "The Mitchell – Johanneson fight was a cracker and I was really impressed with Mitchell's chin and workrate, although fights like that can take a lot out of a fighter, but that is Mitchell's style and why he is exciting. I rate him as the best domestically out there, but I am confident that my boxing ability would be far better than his gung ho style."
SaddoBoxing: "Your acting career has been picking up a lot of momentum lately on a very high level; can you briefly mention what film and television shows you've been acting in?
Steven Bell: "Yeah, for me the acting is another way of expressing myself without the pain [of boxing] and it is something which I am extremely passionate about and would love to make a career of after boxing.
"I first appeared on screen in 1998 in a movie called 'Like It Is' where I played a gay bare knuckle fighter from Blackpool. Since then, I have had bit parts in Shameless, Hollyoaks and Emmerdale when the boxing allows me!
SaddoBoxing: How does the acting career affect your boxing and your life in general?
Steven Bell: "The great thing is that I am involved in the greatest sport on earth and have met some fantastic and wonderful people. Without boxing, I would never have had the confidence to perform on film or TV."