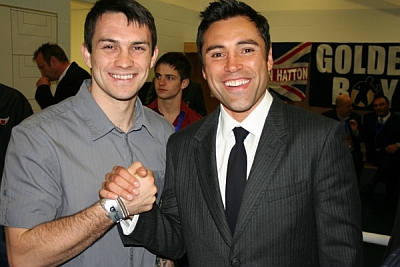 © Curtis McCormick / Saddo Boxing
SaddoBoxing had the good fortune to catch up with one of the top middleweights in Britain, Paul Smith, 23-0 (13), while in Ricky Hatton's dressing room following the victory of "The Hitman" over Juan Lazcano recently at City of Manchester Stadium in England.
Paul had burst onto the national scene in Britain on the strength of his 2002 Commonwealth Games Silver Medal winning performance as a light middleweight, losing only to Canada's Jean Pascal, the currently undefeated NABO/NABF/NABA Super Middleweight Champion.
Turning pro in April, 2003, the Liverpool based "Real Gone Kid" matriculated under the watchful eye of trainer Billy Graham, counting Ricky and Matthew Hatton along with Matt Macklin, Steven Bell among his stablemates and ran his record to 14-0 through 2005.
In 2006, Smith left the Phoenix Camp to work with trainers such as Buddy McGirt and Paul's father Paul Smith Sr and went on to star in season three of "The Contender", defeating Americans Jonathan Reid and David Banks on the show in 2007.
So far, Smith has won the WBU and British Central Area Middleweight titles and most recently, the 25 year old banged out a hard fought decision over Tanzanian hard man Francis Cheka in December before winning the English Middleweight belt with a sixth round stoppage against Cello Renda in March.
As his first English crown defense, Smith must rise to the challenge of facing an experienced former titlist on a big show on June 21 at Birmingham's National Indoor Arena.
As we were surrounded by a celebratory environment in the dressing room of Hatton, we only had time for a brief interview with Paul but we did hit the basics about his promising career!
SaddoBoxing: What do you have coming up?
Paul Smith: "I've got a fight coming up June 21st in Birmingham in the UK against Steve Bendall, defending my English title, and for mandatory position the British title, which is what I want. Hopefully, I'll win the British and get going to move onto better things and get onto the world scene for international fights."
SB: Bendall is a pretty tough guy…
PS: "Yeah, he's tough. He's only lost four fights and they've been to the best in Britain and Europe. So, it'll be a good little tear-up but I'll have to see what happens.
SB: What are your goals over the next year?
PS: "Over the next year, hopefully I'll beat Bendall, win the British and then have one or two ten round international fights over in the states or maybe go for the European title; we'll see how it goes.