**With Slideshow**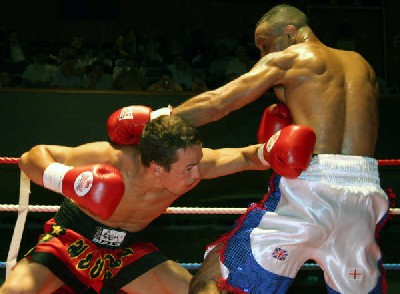 © Jane Warburton / Saddo Boxing
Thursday night night at Wolverhampton Civic Hall in West Midlands, England, the First Team Promotions pair of PJ Rowson and Errol Johnson staged another great night of boxing.
The last 'show' of the season was headlined by popular West Bromwich boxer Young Mutley, aka Lee Woodley, as he faced Latvian boxer Sergejs Savrinovics. It was almost twelve months to the day that Mutley lost the European Light Welterweight title fight to Colin Lynes at the Wolverhampton Civic Hall and last night was the first time since then that he ventured back to the venue.
The former British Welterweight Champion, who lost the title to Kevin Anderson two years ago, has successfully beaten Vladimir Borovski and Kevin Placide since the defeat to Lynes.
Back on the winning streak, the West Bromwich man has his sights firmly fixed on regaining his title.
Looking his usual cool self, Mutley entered the ring with trainer Errol Johnson.
The fight gets off to a steady start with Mutley keeping focussed and producing some nice polished work against the 'smiley' Latvian. It's clear that Savrinovics likes to 'dip' very low, causing Mutley to punch down to his opponent on occasion.
There's great support for the West Browmich boxer as the crowds cheer 'Mutley, Mutley'. The Latvian keeps a tight defence, but still Mutley manages to get through with some straight rights. Savrinovics throws a couple of wild swinging punches that miss their mark, in fact, he seemed to be a little off target for much of the contest.
Errol Johnson shouts to his charge "Don't Wait!" as Mutley throws a combination, then backs off from his opponent.
The sixth and final round sees Mutley increase the pressure. Savrinovics beckons to Mutley to 'bring it on', to which Mutley ups the ante and pins his opponent against the ropes. The crowd and ringside spectators sense the end for the Latvian, but Mutley eases off as the bell signals the end of the contest.
Young Mutley wins on points and improves to 25-3 (13), while opponent Sergejs Savrinovics drops to 4-8-1 (2).
Mutley poses for photos - his face looking unmarked from the experience - but still doesn't allow himself to smile!