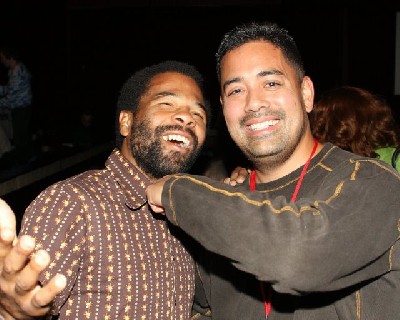 © Jim Everett / Saddo Boxing
This Saturday night Emanuel Augustus will step into the ring at Madison Square Garden for the first time in his career to fight on the undercard of Joe Calzaghe and Roy Jones, Jr. He will face local New York favorite Francisco Figueroa 19-2 (13) as a late replacement for Figueroa's original opponent Gavin Rees who pulled out of the fight last week due to a broken nose.
Augustus 38-29-6 (23) has one of the most deceiving records in the sport of boxing and has made a career out of taking fights on short notice. He has had his share of being on the wrong side of bad decisions and losing close battles, but win, lose or draw he is always entertaining. Floyd Mayweather was quoted as saying, "Augustus was the toughest opponent that he has faced in his career."
In 2001 Augustus received the honor of Ring magazine's "Fight of the Year" for his battle with Micky Ward in which over 2000 punches were thrown during the fight in back and forth action. Although the fight was very close Ward received a unanimous decision.
The most heinous decision he received in his career was his 2004 split decision loss to Courtney Burton. In the fourth round Augustus landed two solid body shots that put Burton on his knees which the referee ruled a low blow and provided Burton with five minutes to recover.
Burton threw rabbit punches through out the fight that went without warning, but Augustus received not only a warning but was deducted a point for "spinning around" out of a clinch. The controversial outcome prompted an investigation with the Michigan State Athletic Commission.
In a bout that didn't get nearly the recognition it deserved Augustus won a TKO victory over Ray Olivera in 2005. It was not so much the victory that was memorable but the unbelievable class that Augustus showed during the bout that should have been recognized.
Augustus was on form, fighting with his "Drunken Master" style and putting on an entertaining bout against Olivera. Late in the fight Olivera began to act strangely holding his head and yelling out in agony. After the doctor cleared Olivera to continue Augustus refused to land any additional punches to Olivera's head, only delivering blows to the body for the remainder of the bout.
Saddoboxing had the honor to speak with the "Drunken Master" and ask him a few questions during this week's press conference.
Saddoboxing: How much notice did you have before you found out you would be fighting on Saturday night?
Emanuel Augustus: "About a week, a week and a half."
SB: What do you do in between fights to stay prepared?
EA: "Stay in the gym, I live in the gym, I'm always in the gym, always training. I've never had the luxury to wait for that call; my whole thing was always stay in the gym, train, train, train.
"When I get that call I might do a little bit extra to push myself to make sure I'm on weight, things like that. Primarily that's where I'm at right now in my career, after I win this fight I won't have to worry about any of that anymore."
SB: Is there any difference in fighting on an HBO PPV event versus the ESPN fights?
EA: "The biggest difference is the media rush. On ESPN it's more like me and maybe one or two other guys in the room, but here I feel like I'm in a casino of sorts. I'm not really one of those types of people that's really good around people. I have to really control myself in a sense."
SB: Were you surprised with the recognition you received from ESPN this year when you were voted the Most Memorable Fighter of the Decade?
EA: "Truth be told, yes. I thought that ESPN had so many other fights and fighters that could have easily won it. I just thought that I was way at the bottom of the barrel. Aside from the Mickey Ward fight I thought I would have been at the bottom of the barrel and Mickey Ward would have been at the top. Truth be told, I really thought Mickey Ward would win it, especially after all the things that he has done. Beating me than going on and fighting Arturo Gatti, I really thought he had it in the bag.
"When it was me that received it I was speechless. I was so grateful and felt so blessed and honored to have achieved that. It really kind of set a standard in my mind to say I really want to push this and take it as far as I can take it, now here I am on HBO. Now I have to be able to still keep pushing, for me to get this opportunity is one thing but for me to grow from it is something else. This is just an opportunity for me to excel We'll see what happens on Saturday, I feel good, I'm in shape, and I'm ready to rock and roll."
SB: Your award was definitely well deserved, one of your most memorable fights that I remember from ESPN was against Ray Olivera, you were in your form doing your "Drunken Master" thing and Olivera started screaming from the problem he was having with his head, I watched it over and over and once he started screaming you never threw another punch to his head, you just stayed away from it, it was one of the classiest things I have ever witnessed in the ring.
EA: "Thank you, thank you. I went with Kostya Tszyu to London to help him get ready for the Ricky Hatton fight and they showed Hatton's climbs to the top and one of his steps was Ray Olivera. Ricky Hatton has a habit of punching guys in the temples and that's what happened to Ray Olivera. He hit Olivera on the top of his temple and dropped him, as far as I knew Olivera had never been dropped before. But then to get hit right there and get dropped, for the rest of the fight Olivera was never really the same.
"When Olivera and I fought my main focus was not to hit in that area. One of the last punches I threw right before that incident had happened was kind of on the side of the head and back of the neck. I was very leery of it when it happened and when he started yelling I felt I knew what had happened. Everything I was trying not to do I ended up doing it and I just really understood where he was coming from.
"I really had to slow my roll and no more punches to the head just focus on body shots, I was just going to work nothing but body shots for the rest of the fight. I wasn't going to throw anymore head shots to him, I understood what had happened. I just don't want that on my conscience, I want to win but not by any means necessary."
SB: It really was the classiest move I have ever witnessed in the ring, it was an honor to meet you, and on behalf of Saddoboxing I wish you the best of luck in your career.
EA: "Thank you, I really appreciate it."