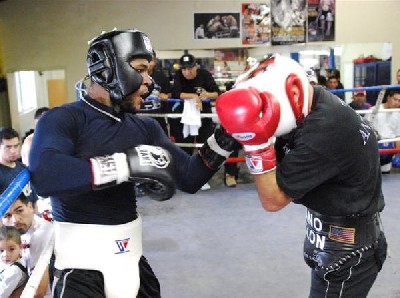 Click for larger image
Joan Guzman, 28-0 (17), continues to leave his sparring partners gassed and looking for the exits. On this occasion, from the Maywood Gym in Los Angeles, undefeated super featherweight Urbano Antillion, 24-0 (17), got a taste of what it's like to be in the ring with a two division former world champion.
"Guzman's hand speed and quickness is unlike anything I've seen before," Antillion said. "He doesn't let you develop any kind of rhythm. "After a while, you just get tired because of the pace he keeps. t was a good learning experience for me."
Young boxers, trainers and those merely looking for a glimpse of the Dominican star followed every punch, step and movement that came from the slick-footed Guzman.
"That happens quite frequently when I train in gyms that I'm not familiar with," said Guzman, who enjoyed bigger crowds at an Atlantic City, N.J. gym during fight week workouts for his bout against Humberto Soto in 2007. "Everyone kind of stops what they're doing and looks. Afterward, I get to talk to some of the youngsters and give them some tips."
Guzman travels to his native Dominican Republic to take on WBA Fedelatin lightweight champion Ameth Diaz, 25-7 (19), on Saturday, Dec. 20, 2008, from El Palacio de los Deportes in Guzman's hometown of Santo Domingo.
The 12 round fight is promoted by Jay Boxing Promotions and will be Guzman's first since outpointing Soto last November. The bout also serves as a WBA lightweight title eliminator.
"I'm getting into that stage in training where everything is clicking," Guzman said. "The jab, combinations and defense are working together. Every move and reaction is built for a purpose.
"With the fight being in my native Dominican, I have to make sure to give my hometown fans a good show. I haven't fought there in two years so I'm looking forward to it."
Guzman is trained by the veteran Robert Garcia.