Click for larger image © TKO Boxing Promotions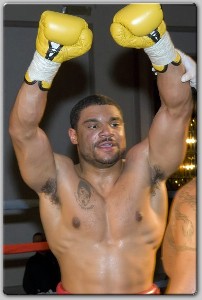 Ready to take the heavyweight division by storm, prospect Andres "Taylor Made" Taylor is finalizing preparations for his showdown with Larry Carter this Saturday night, March 7, at the Valencia Ballroom in York, PA.
The pair clash as part of the "Battle At York 3" an evening of world class professional presented by Chet Koerner's TKO Boxing Promotions.
Speaking just prior to a late night run in his native Johnstown, Pennsylvania, the highly popular and always exciting Taylor spoke about his upcoming bout, his future plans, training with Roy Jones and his last fight, a third round knockout on the massive Kelly Pavlik, Youngstown homecoming card.
"It was a thrill to fight in Youngstown on such a big card," said Taylor. "The crowd was so passionate and enthusiastic the whole night.
"A lot of people came down from Johnstown and it seemed like the whole crowd was cheering my name during the fight."
Shortly after knocking out Jim Emrick in the third round on the February 21 Youngstown card to improve his record to 6-0-1 (3), Taylor got the call to come down to Pensacola, Florida to spar for a couple of days.
"Initially I thought I'd be sparring with Roy Jones, but he has a huge heavyweight named Calvin Price that they wanted me to work with," said Taylor.
"He's about 6'7" and goes about 250," said the smallish heavyweight Taylor, who tips the scales at 210 and stands six feet tall.
"The guys in the gym thought he would destroy me, but we went even for about 12 rounds over two days, it was a terrific experience."
In January, Taylor won the WBF Americas Cruiserweight title with a first round knockout of Philip Jewel at a packed War Memorial Arena in Johnstown .
"I've lived in Johnstown since I was a little kid and the support here is terrific," said Taylor, who runs a construction company outside of the boxing ring. "It was a great night to win the title at home."
Taylor got a late start in boxing, only taking it seriously in 2005. In 2007, he was part of the Team USA squad that competed in Romania, competed at the US Olympic Trials, won a gold medal in the West regionals and the silver in the Midwest .
"I only had about 30 amateur fights, but I feel great fighting as a pro. My goal is to be the heavyweight world champion but I'm prepared to win a world title at cruiserweight first. I'm a small heavyweight but I love the challenge of fighting the big boys."
About Saturday night in York, Taylor said, "Carter's the first southpaw I've faced and most of the guys from Detroit are very tough so I have to be careful early on. Fans should expect another great performance, however, and 'Taylor Made' chants throughout the fight from my faithful."
The "Battle At York 3" will be headlined by popular York, PA. featherweight prospect Carney Bowman taking on former world title challenger Jesus Perez of Cordoba, Columbia, in the main event while local super bantamweight Eric Nemo will face fellow former world title challenger Jose Bernal of Barranquilla, Columbia, in the co-main.