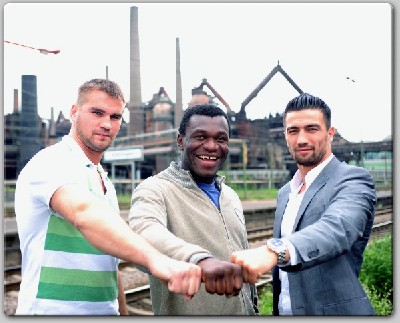 © W. Klauke
Arena's stars Herbie Hide, Steffen Kretschmann and Mahir Oral have been received very kindly Monday afternoon in Völklingen, Germany for the first press conference for the big Arena show on June 26 at Hermann-Neuberger Halle.
Even the mayor of Völklingen, Klaus Lorig, welcomed the fighters and expressed his excitement for the big show to come. It will be the first professional boxing event in the Saarland region, close to the French border, in 30 years.
"Dancing Destroyer" Herbie Hide was in great demand after the WBC has officially confirmed him as mandatory challenger for the winner of the WBC cruiserweight championship between Giacobbe Fragomeni and Krysztof Wlodarczyk, which will be held May 16 in Milan, Italy.
"Originally, I was meant to fight Matt Godfrey in a final elimination bout", states Hide. "But Godfrey pulled out of the fight twice. This boy has been ducking me for more than half a year now. He is afraid of me and I can't blame him for that. I would have kicked his ass from Völklingen right back to the hole in the States where he is hiding.
"In fact, Godfrey isn't the only one who is ducking me. Everybody is afraid of the 'Dancing Destroyer' because everybody knows that I am the strongest man in the cruiserweight division.
"If this German kid Marco Huck ever wants a thorough thrashing he can always contact me. I will knock him out anywhere anytime. He might be powerful, but nobody in the division is as powerful as me.
"Remember that I have been knocking out heavyweights my whole life. In the cruiserweight division, there is no one who is even fighting in my league. It will be easy for me to win the belt as long as people actually dare to fight me.
"I am glad that whoever wins in Fragomeni vs. Wlodarczyk can't look pass me because I am the mandatory challenger. I will beat both of them the same night if necessary to take what's mine.
"I promise to all of my fans, to my promoter Ahmet Öner and to my trainer Rocky that I will be the next world cruiserweight champion. As soon as I get a shot at the title, the belt will be mine."
Strong middleweight contender Mahir "Lion" Oral is in the same situation as Hide. The winner of the July 11 WBC interim championship between Sebastian Zbik of Germany and Domenico Spada of Italy will have to face Oral in their very next fight.
Oral will be back in action on June 26 in Völklingen to defend his WBC Mediterranean championship. "This is my final test for the world title fight", says Mahir. "I will not look pass this fight in Völklingen. I know that I have to win and I will do what I have to do."
The third main event of the night will feature promising German heavyweight prospect Steffen Kretschmann in his toughest test so far, against experienced Russian Denis Bakhtov.
The reigning PABA champion, Bakthov has been in the ring with former European champion Sinan Samil Sam and former cruiserweight champion, and recent challenger of Vitali Klitschko, Juan Carlos Gomez.
He is coming off of four straight wins and hasn't lost in two years. Still, Kretschmann is convinced that he has what it takes to beat Bakhtov.
"Of course, Bakhtov is my strongest opponent so far", states Kretschmann. "But if I stay focused and fight my own fight I know that I can beat him. My goal is to fight for the European championship soon. Bakhtov is the first step on my way to that title."
Eurosport will broadcast the show live on June 26 at 9pm. Tickets priced from 20 to 66 Euro will go on sale next Monday, May 18.
Arena presents the show along with local event coordinators "TV Sports" and friends.
For more information see www.boxgala.com