By Boxing Press August 21st, 2009 All Press Releases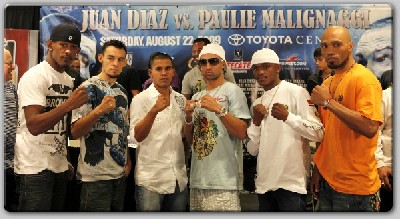 © Aaron Sprecher
Former Three-Time Lightweight World Champion Juan "Baby Bull" Diaz will take on former Junior Welterweight World Champion Paulie "Magic Man" Malignaggi in a 12 round junior welterweight bout this Saturday at the Toyota Center in Houston, TX.
The co-main event will feature a world title showdown between IBF Junior Lightweight World Champion Malcom Klassen and former Two-Time Featherweight World Champion Robert "The Ghost" Guerrero in a 12 round bout for Klassen's title.
The opening TV bout will see the exciting middleweight prospect Danny "The Golden Child" Jacobs taking on the battle tested Ishe "Sugar Shay" Smith in a 10 round bout for the NABO Middleweight Championship.
Bernard Hopkins: "If you think you're not going to see action unless you see the main event, you're doing yourself a disservice. When you come to the fight early (and see the undercard) you see the future of boxing."
Shane Mosley: "I'm happy to be here because it's going to be a great fight with two great fighters. Paulie, he's got charisma, and Juan is a warrior, he'll fight until the end. It's going to be a good fight."
Juan Diaz: "In boxing you might get knocked out, you might get cut, you might lose, but what show's what kind of boxer you are is how you come back.
"I'm a former World Champion, I'm 25 years old, I have nothing to lose and everything to gain.
"I'm not going to trash talk or say anything . . . that night I'm only going to see one thing in my way to being a world champion and that's Paulie Malignaggi. I'll let what I do in the ring do the talking."
Paulie Malignaggi: "I've been in the gym literally the entire year; I've maybe missed three weeks, that was it.
"Believe me, I am ready to fight, I'm sharp, I wanted this fight and I'm ready."
Malcolm Klassen: "I didn't come all the way to Texas to give my title away.
"I know Robert's been sparring against Shane Mosley, and Shane is one of my idols, but I'm not Shane, I'm the total package."
Robert Guerrero: "I'm ready to go. I had a great six-week camp. I've been sparring with Shane Mosley. Who's better to spar with than Shane Mosley? So tune in Saturday night because I'm ready to win another world title."
Danny Jacobs: "Ishe is a great fighter and I'm looking forward to testing my talent. I'm glad he's training hard. I'm ready for the challenge."
Ishe Smith: "I will not lose this fight, it's just not happening."
All three fights, which are presented by Golden Boy Promotions, with Diaz vs. Malignaggi being presented in association with DiBella Entertainment and Klassen vs. Guerrero being presented in association with Branco Sports Productions, will air on HBO Boxing After Dark beginning at 8:45 pm CT (9:45 pm ET/PT).
The evening of boxing is sponsored by Quaker State, Cerveza Tecate and Southwest Airlines. Doors open at 3:15pm and the first bout begins at approximately 3:15pm.
Click to read more boxing articles by Boxing Press
Discuss in Boxing Forum
---
Boxing News Tags: Bernard Hopkins, Danny Jacobs, Golden Boy Promotions, Ishe Smith, Juan Diaz, Malcolm Klassen, Paulie Malignaggi, Robert Guerrero, Shane Mosley