By Robert Brizel March 10th, 2010 All Ringside Boxing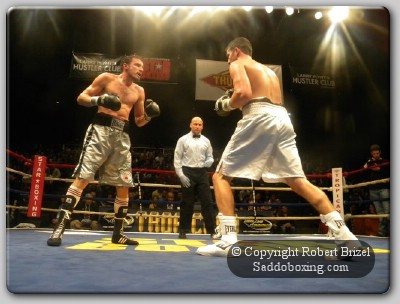 © Robert Brizel / Saddo Boxing
In a light heavyweight bout where even the overwhelming favorite admitted that the opponent's record was highly deceiving, Chuck Mussachio of Wildwood, New Jersey, won a razor close unanimous hard fought decision over game Richmond Dalphone of Pensacola, Florida, in what evolved as a brutal give and take toe-to-toe six round war.
In the first round, Mussachio, now 14-1-2 (5), with the New Jersey crowd screaming "Chucky!" came forward throwing power shots with both hands Dalphone, now a deceptive 2-5-3 (2), gamely countered with solid consistent left jabs that scored, winning the round. Dalphone continued to hold his left hand low, showing a flaw.
The second round featured exciting exchanges within the center of the ring. Dalphone landed some effective power shots with Mussachio on the ropes, forcing Mussachio to grab and hold whenever he got punched. In the third, Mussachio scored best with left and right counter jabs and hooks to the body, forcing Dalphone to retaliate with a lot of power shots.
In the fourth round, the contest turned life and death, with Mussachio loading up on the overhand right and scoring, wobbling Dalphone to Queer Street several times, but he survived.
In a cautious fifth round, Mussachio landed a lot of jabs, with Dalphone throwing counter jabs. In the sixth, both fighters put it all on the table, as the outcome of the bout was still on the table. The result was heated exchanges, with Dalphone turning on the heat near the end to perhaps win the round.
Scoring: 58-56 unanimous decision across the board, all three judges for Mussachio.
In an exclusive interview with Saddoboxing after the bout, Mussachio noted some facts about his opponent Dalphone others may not have been aware of. "His record sucked, but he didn't suck. Very deceiving record, he had a good jab, he was smart." Mussachio continued, "He was a schooled athlete, but he was in over his head from the start. I had him hurt, he was tough. It was probably up there, one of my toughest fights. He (Dalphone) had 70 wins as an amateur."
Mussachio also stated, "He (Dalphone) was trained for this bout by Roy Jones Jr. and Roy's father. He's been sparring with Jones. Tough kid. His professional record should be 7-0. Whoever's handling Dalphone moved him up too soon, as he wasn't ready and they're cashing out. As for me, I'm ready to fight, as long as my fiancée lets me!"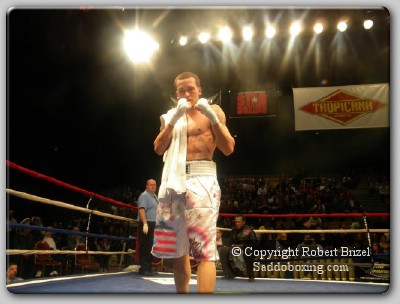 © Robert Brizel / Saddo Boxing
Other Undercard Bout Results
Heavyweight Joey Dawejko, former world junior amateur champion out of Philadelphia, went to 3-0 (1), with a unanimous decision over Kumani Cunningham of New York City, now 0-3. Dawejko, a last minute add to the Tropicana fight card, was more aggressive and landed consistent power shots, winning the first three rounds. The fourth round was about even. Scoring: 40-36 and 39-37 twice, unanimous decision for Dawejko.
In an exciting junior middleweight ending with a minor upset, debuting Ismael 'Tito' Garcia of Millville, New Jersey, won a four round unanimous decision over Josh Mercado of Cape May, New Jersey, now 3-1 (1). In a South Jersey matchup of mainland versus coastline, Garcia won a cautious first round by scoring with a lot of hooks In a brutal second, Garcia landed more often with a good right hook. In the third, Garcia landed left jabs and right hooks inside, winning brutal exchanges on the ropes.
The fourth round featured monster electric exchanges, with Garcia landing a bit more. This bout ended with loud cheer from the crowd and acknowledgement from referee Sammy Vera for a game fourth round. This was probably the most exciting bout of the evening and a thrilling matchup. Garcia has enormous potential and a promising future.
The Dawejko bout was a replacement for the originally scheduled bout which was to have featured the debut of eighteen year old Thomas 'Cornflake' LaManna of Millville, New Jersey, a former Philadelphia Golden Gloves champion at welterweight, against 0-3 Fasika Bezabeh. It appears LaManna's paperwork submitted to the New Jersey Athletic Commission was in order. According to LaManna and his father in a brief interview with Saddoboxing after the fight card was over, the required paperwork did not arrive at the commission in time to gain official clearance for LaManna to fight his debut at The Trop.
Click to read more boxing articles by Robert Brizel
Discuss in Boxing Forum
---
Boxing News Tags: Boxing Results, Chuck Mussachio, Richmond Dalphone, Ringside