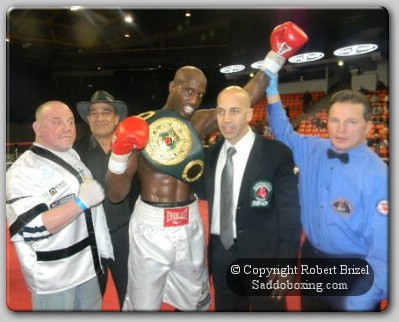 After spending several grueling months training under physical fitness guru John Schaeffer from the Winning Factor Sports Science Training Systems, located in Reading, Pennsylvania, heavyweight Carl Davis showed up in a cruiserweight body to battle for the vacant USBO Cruiserweight Championship at the UIC Pavilion, Chicago, Illinois, last Friday. Although plagued by a flu bug which sent him to the hospital two days earlier, Carl Davis looked the part of a determined cruiserweight. Former world cruiserweight champion King Arthur Williams came in overweight, and he was forced to lose two pounds the day of the weigh in.
King Arthur Williams came into the bout believing it to be one of his final opportunities at a title, and was a far tougher opponent than one would have expected, fighting tough and smart. Williams used every bit of savvy to thwart off the younger and stronger Davis.
The first five rounds went to Davis, who, behind a strong left jab, dominated those rounds as anticipated. Not to be outdone, the cagey veteran Williams decided to try to upset the younger fighter with overhand rights. Davis withstood several of those punches, and despite being rocked several times by those types of punches, displayed an uncommon ability and showed a true championship heart to recover quickly from those shots and regain control of the fight.
Midway through the fifth round, a perfect timed right hand sent 'The King' on his heels into the ropes, scored as a knockdown by referee Pete Podorski for a 10-8 round. Most of the damage incurred by Davis occurred in rounds six through nine, where Davis showed his fortitude and determination to become a cruiserweight champion. Williams seemed unstoppable behind his left jab, and only was in trouble when he stopped using it.
Davis won the tenth and final round, capitalizing on his left jabs with strong right hands, keeping the ex-champion on his heels, clinching his first USBO Cruiserweight Title, and clinching the first of two title bouts for manager Wasfi Tolaymat that evening. Davis, fighting out of the South side of Chicago, Illinois, improves to 15-3 (1). King Arthur Williams, now fighting out of Las Vegas, Nevada, falls to 47-16-1 (30).
Result: Carl Davis Win UD10 King Arthur Williams
Scoring: 97-93 and 96-93 twice for Carl Davis