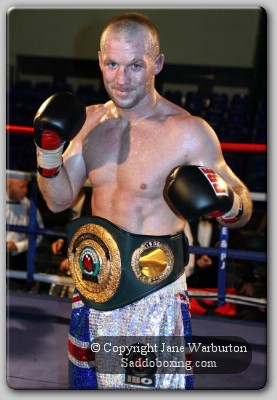 Click the above Image for more Photos from this Event
Tony Dodson (Liverpool) v Darren Stubbs (Oldham)
12 x 3 Light Heavyweight – IBO International Title & British Eliminator
Liverpool's Tony 'Warrior' Dodson won the IBO Light-Heavyweight Title last night defeating Oldham's Darren Stubbs in seven 'bloody' rounds of boxing.
In a packed and rowdy Greenbank Leisure Centre, Liverpool, the Stephen Vaughan promoted fight-night of five contests (billed as 'Here comes your Warrior') – headlined the battle between Dodson and Stubbs.
Whenever Dodson is around – you always know there's likely to be a war and plenty of blood! Last night was no exception! The Liverpudlian sustained a cut to the left brow in the opener and Stubbs gained a cut to the right brow in the third. Both men gave it plenty of action and the fight could easily have gone either way. Dodson looked to be on top in the fourth as gutsy Stubbs – bloodied and shaken by a right hook looked like he might not survive the round. It was a proper war between these two! Stubbs 'dug in' and came back fighting in the fifth – pressuring Dodson in the corner. But Dodson lands another big hook – while still backed up – and gets himself out of trouble. The fight is a bit of a brawl but exciting action and it seemed the whole venue was on it's feet!
Stubbs gamboles over in the sixth and Dodson supporters cheer – but it's a no knockdown. The seventh sees Stubbs under pressure. He takes a number of thumping shots and is backed against the ropes when Referee Marcus McDonnell jumps in to stop the contest.
Dodson wins by seventh round stoppage to claim the IBO Light-Heavyweight Belt.
He improves to 28 wins (14 by KO) 6 losses (4 by KO) and 1 draw, while Stubss drops to 21 wins (8 by KO) 7 losses (4 by KO).
Other results include:
Phil Smith (Liverpool) v Anwar Alfadli (Sheffield)
6 x 2 Bantamweight Contest
Smith aka 'Twinny' looked a bit shocked by the erratic Sheffield boxer as they began this six rounder. Ingle-Boxer Alfadli covered the entire canvas as he launched across the ring at his opponent in his usual 'tricky' style. But a solid body-shot sends Alfadli to the canvas in the third. He immediately springs up to his feet in entertaining fashion – shaking his head as if to say 'that was nothing'. Twinny sustains two cuts above the right brow this round but keeps himself together to secure the points win.
Smiths record improves to 2 wins no losses while Alfaldi drops to 1 win 18 losses (2 by KO) and 2 draws.
Andy Colquhoun (Debut) (Liverpool) v (Ryan McNicol (Glasgow)
6 x 2 Super-Featherweight Contest
Debutant Colquhorn gave a good confident performance against Glaswegian McNicol. The local man kept his opponent at bay with the left jab, with some nicely controlled boxing. He pressures McNicol in the fourth and the Scot sustains a cut to the right brow as they part at the end of the fourth. McNicol clearly isn't happy about the cut as he gestures to referee Mark Lyson. Colquhorn keeps focussed to secure a points win 60-54 to notch up his first pro-win.
McNicol's record now stands at 2 wins 12 losses (1 by KO) and 2 draws.
Joe Tonks (Liverpool) v Graham Fearn (York)
6 x 2 Lightweight Contest
Tonks secured a points win over Fearn of York.
Tonks record now stands at 3 wins 2 losses, while Fearn drops to 5 wins (1 by KO) 8 losses (2 by KO) and 2 draws.
Sean Watson (Glasgow) v Dai Davies (Aberystwyth)
6 x 2 Featherweight Contest
Both men told to 'watch their heads' in this six-rounder, with Davies sustaining a nick to the corner of his left brow.
Davies wins on points.