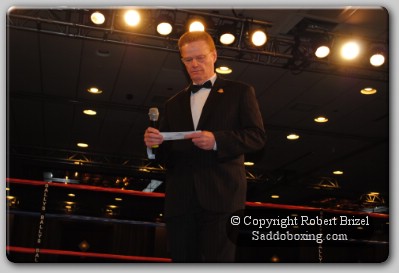 More than just a noted ring announcer, boxing historian and sports historian, Henry Hascup has achieved fame by doing something most unique. In addition to helping down and out boxers, Hascup frequently delivers the eulogies for fallen and deceased pro boxers, and often pays for their funerals and tombstones.
During his lifetime, Henry Hascup has provided an extraordinary level of kindness, caring and decency for down and out boxers, and departed boxers. His universal knowledge of fighters and ring history make Henry Hascup most qualified to remember fallen fighters in a way others cannot, to tell the stories of their boxing careers with facts and feelings, in a way which provides their families with true comfort and understanding at the most difficult of times.
Born in Paterson, New Jersey, on October 8, 1948, Hascup attended Passaic County Tech High School in Wayne, New Jersey. A championship caliber runner with a tall, slender frame, He won the 1966 state tech cross country championship. He worked as a supervisor at Public Service Electric and Gas Company (PSE&G) for 27 years until retirement. Hascup is married with ten children and 14 grandchildren.
Hascup was a single parent with four children and a dog, and in a scene worthy of the television series 'The Brady Bunch', met and married another single parent with four children and a dog. The married couple then took in another two children.
A life just like 'The Brady Bunch'?
Hascup stated, "Yes. We had eight children, four of hers, four of mine, and we even took in two (other) kids, so we (my wife Joyce and I) ended up with ten kids, two dogs, and us two.
Contributions to Boxing
Henry Hascup's contributions to the sport of boxing are too numerous to list. His more noteworthy endeavors, which continue to advance the sport of boxing, include:
* President of the New Jersey Diamond Gloves competition for the past 25 years (Amateur Golden Gloves)
* President of the New Jersey Boxing Hall of Fame for 27 Years
* President for the third year of the New Jersey Association of USA Boxing, which oversees amateur boxing
* Contributing editor of Boxrec online, dealing with ring records of professional boxers and officials
* Charter member of the International Boxing Research Organization
* International Boxing Hall of Fame Modern Committee and Old Timer's committee member
* Regional supervisor for the International Boxing Association
* Boxing historian for Ring 8, the New York State Boxing Hall of Fame and the Boxing Writer's Association of America
Career as Announcer and Keeper of the 9 Count
Hascup has served as ring announcer for over six hundred amateur and professional bouts, most frequently in New York State, New Jersey, and Pennsylvania. He is known for the 9 count (rather than the traditional 10 count ringing of the bell) for fallen boxers.
But why a 9 count instead of 10 count?
According to Hascup, "A small part of them (the departed fighter) will stay with the family and friends, and help to perpetuate and live on the memory of that fighter, a small part of them to the next generation. The 10 count is final, the 9 count is not."
Charity Efforts and a Man of Eulogies
Through his work with the New Jersey Boxing Hall of Fame, ongoing charitable endeavors help out down and out boxers financially, as well as pay for funeral processions and tombstones of departed fighters.
"We personally visit them, help them, bring them groceries, call them, and let them know somebody cares, so they (the boxers) are not forgotten, through the efforts of our New Jersey Hall of Fame board members," explained Hascup. Incredibly, Hascup has done over 200 eulogies for departed boxers and boxing persons known to the sport, including such well known names as Rocky Castellini, Paul Cavalier, Gil Clancy, Johnny Colon, Arturo Gatti, Joey Giardello and Tippy Larkin.
Role as Historian
A trivia expert of all sports, Hascup's collection of rare boxing books, magazines, gloves and memorabilia goes back hundreds of years, to the 1800's. It provides an invaluable resource when the time comes to research a fighter before: presenting an award or recognition; writing a biography telling about a fighter's accomplishments and achievements in the ring; and most importantly-for delivering a boxer's eulogy.