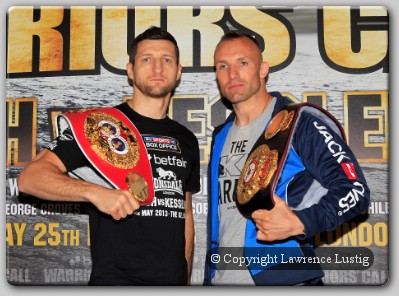 Carl Froch Vs Mikkel Kessler, Three years after their thrilling initial clash, super middleweights Carl Froch and Mikkel Kessler are at it again on Saturday evening, this time at London's 02 Arena.
On April 24, 2010, the pair met on Kessler's Danish home turf with Carl Froch's WBC on offer as part of the Super Six tournament. Kessler had just come off a loss to Andre Ward while Froch was in his first bout after a controversial split decision win over Andre Dirrell.
The bout pitted Kessler's straight ahead European style against the awkward, low-handed looseness of Carl Froch and in the end, it was Kessler who got the nod after 12 intriguing rounds.
Fast-forward three years later and we have two belts at risk: Kessler's WBA bauble, won last time out against Brian Magee, and Froch's IBF crown, won a year ago against Lucian Bute.
Since the loss to Mikkel Kessler, Carl Froch, 30-2 (22), has gone 4-1 with wins over Arthur Abraham, Glen Johnson, Bute and Yusef Mack while losing to Ward. Kessler , 46-2 (35), has won all three of his contests, Mehdi Bouadla, Allan Green and Magee, since defeating Carl Froch.
In that time frame, Carl Froch has faced the better lineup and did better again then did Mikkel Kessler but will that have any effect once the bell rings Saturday night in London?
Froch has home advantage this time and that alone will likely give him, as it did Kessler in 2010, the edge in any close rounds and also in the final outcome should the bout go the distance.
And that is almost assured, given the granite chins both Mikkel Kessler and Carl Froch have displayed throughout their careers.
So, what we have here is a contest that in order for Mikkel Kessler to win, he'll have to clearly win at least eight to nine rounds. Is that possible? Is it likely?
Mikkel Kessler generally doesn't win fights on higher activity rate but rather accuracy and punching power. Opponents get countered and rocked, becoming a lot less ambitious as the bout wears on.
Carl Froch is used to getting hit as his defense is full of holes but keeps opponents from taking over by being ready, willing and able to throw punches from any angle at anytime in a very unpredictable fashion.
In their first fight, Kessler used the jab and a straight right to the body to good effect. The punch clearly bothered Froch and later on Kessler was able to fake the shot and hit Froch upstairs with rights.
The jab will definitely be at the forefront of the Dane's strategy again but can we expect Kessler to be more committed to a more sustained body attack this time around?
Despite home advantage, Carl Froch will have to be busier than in the first bout if he is to certify a victory. If he can land right hands over Mikkel Kessler's jab and back up the WBA champ, forcing a close quarters war, Froch should be in the driver's seat.
To do that means he'll have to walk right into Kessler's powerful right hands, either taking the punch and breaking Kessler's confidence or cracking under the punishment.
It's a risky move but expect Froch, backed by a large partisan crowd, to throw caution to the wind in the attempt gain revenge against his arch-enemy.
The undercard sees another rematch as light heavyweight contender Tony Bellew, 19-1-1 (12), will again meet Isaac Chilemba, 20-1-2 (9), following their draw this past March for the WBC Silver belt.
Trash-talking Bellew was exposed as a limited fighter last time out by Chilemba, who, were he busier, could have KO'd the Liverpool man.
For Bellew to change matters, he'll have to be much more mindful of defense and keep Chilemba on the outside. For Chilemba to secure a victory this time, he needs to start his offense early, slipping Bellew's jab to get inside and bust up the Englishman.
A lot is at stake here as the winner gets a shot at the winner of next month's WBC title fight between Chad Dawson and Adonis Stevenson
Much-hyped British super middle George Groves, 18-0 (14), is also featured on the bill as the Londoner squares off with Uruguay's Noe Gonzalez Alcoba, 30-2 (22).
Alcoba has an impressive won-loss record on paper but he's the kind of fighter that is brought in to face the likes of ex-WBA middleweight king Felix Sturm and Canadian contender Adonis Stevenson, as Alcoba lost to both in 2007 and 2012, respectively.
It's another kind of dangerous, kind of not dangerous bout for Groves, who hasn't really been tested since producing a superb win over talented British rival James Degale two years ago.
At stake is the vacant WBA Intercontinental super middle strap and expect Groves to come out victorious. If that does occur, Groves will likely get a genuinely dangerous assignment against a legitimate world champ such as Froch, Kessler or Ward.
Carl Froch Vs Mikkel Kessler Rematch Video Stream of Weigh In