**With Boxing Slideshow**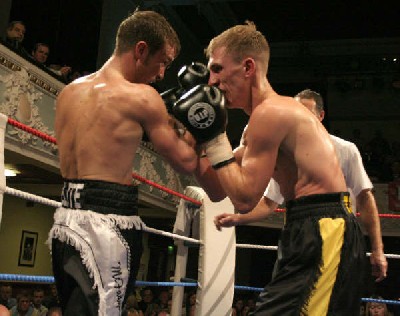 Click for larger image © Jane Warburton / Saddo Boxing
It was a packed house at 'The Muni', otherwise known as Municipal Hall, in Colne, Lancashire, England yesterday for another VIP Promotion by Steve Wood. There were four contests followed by 'entertainment for the boys' as part of the 'JollyBoys Tour'.
Young Jack Arnfield of Bobby Rimmer's Boxing Academy won impressively in his second pro fight. Enjoying huge support from the Colne audience, Arnfield looked cool and confident as he faced Birmingham based Welshman Lance Verallo in a four round light welterweight bout.
It was an exciting contest with Verallo down on the canvas and then finally knocked down again in round four.
Arnfield wins by TKO, climbing to 2-0 (2), while Verallo remains winless at 0-20 (0).
But it was a disappointing afternoon for popular 'Burnley Banger' - Stuart McFadyen, who faced a tough opponent in the shape of Gavin Reid from Redcar, Yorkshire in a super bantamweight contest.
McFadyen was wobbled early on by Reid and in round three, he took a lot of punishing shots which seemed to sap him and he never really recovered as his legs buckled a couple of times afterwards. 'Stu-y, Stu-y...' the crowd chanted, trying to lift the spirits of the local man.
In round five, after a barrage of shots from Reid which had McFadyen backed up in his own corner, referee Andy Grey called a halt to the contest just as McFadyens' corner threw in the towel.
McFadyen looked shattered in his corner and afterward, his mother told SaddoBoxing that 'He is gutted...but he'll come back from this'.
This was McFadyen's first defeat, having won the previous seven fights, and drops to 7-1 (1), while Reid improves to 3-1 (2).
There was huge support for Mancunian Chris 'Johno' Johnson as he faced Yorkshireman Peter 'Desperate' Dunn in a 6 x 2 rounds welterweight contest. It was another fast-paced bout, which saw Johnson dominate to win on points and improve to 5-1 (2), while Dunn falls to 11-87-4 (0).
Youssef Al Hamidi won on points over Wolverhampton man Carl Allen, in a lightweight contest over six rounds. Originally from Syria but now residing in Dewsbury, Al Hamidi looks to have broken his streak of having lost the last three fights, including a defeat to Michael Gomez in June of this year.
Al Hamidi sees his record to 3-5-1 (1) while Allen 18-60-7 (5).
All in all - a great Sunday afternoon's boxing from Steve Wood, which concluded with the 'International Fantasy Showgirls', which I didn't stay for!