**With Slideshow**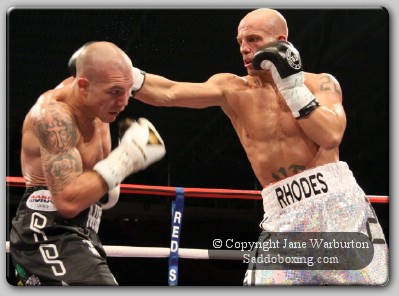 © Jane Warburton / Saddo Boxing
Friday night at the Bolton Arena in Bolton, England, Frank Maloney promoted a fight night headlined by three title bouts, billed as 'War of the Roses'.
Salford boxer Jamie Moore faced Ryan Rhodes of Sheffield for the European light middleweight title, St.Helens boxer Gary Davies made the first defence of his British bantamweight title against Londoner Ian Napa and Stoke's Chris Edwards made his second defence of the British flyweight title against Mongolian-born Shinny Bayaar.
Jamie Moore (Salford) v Ryan Rhodes (Sheffield)
12 x 3 European Light Middleweight Title
Reigning European champion Moore starts off busy from the first bell, keeping former two-time British light middleweight champion Rhodes on the back foot. Rhodes - having the shorter reach - just misses his target a few times with sweeping shots.
Moore dominates from centre of ring, while Rhodes struggles to settle in to this first round. The Sheffield man goes for the body of 'Mooresy' but Moore looks determined, ploughing through with more punches - landing a hard shot which rocks Rhodes' head from side to side.
Rhodes comes out better for the second round but within half a minute he is driven back again by Moore. Rhodes takes a number of head-shots which sneak through the middle of his guard and his 'relaxed' approach makes his head appear to 'flop' up and to the side - making the effect look perhaps more dramatic.
Moore scores with uppercuts and body-shots in the opening minute of round three. Rhodes is taking a lot of punishment - but stands firm trying for some big shots which, again, just miss their mark. Rhodes' head rocks from side to side with each shot - but he's a tough man and didn't look worried when he went back to his corner.
Sky Sports fight stats reveal that Moore has landed 57 punches so far as opposed to Rhodes' 28.
Round four sees both men stand toe to toe - throwing punch for punch. Rhodes gets through with a head shot and Moore targets the body and throws uppercuts. "Mooresy, Mooresy", the crowd chants. But at the end of the round, Rhodes lands a decent right to the face of Moore and now the champion is backed up as the bell ends the round.
Rhodes lands another solid right at the start of round five, but mid-way through the session he drops to a knee after a low shot to the body. He gets back to 'work' and seems to have settled in to the fight well now. In the last minute of the frame, Rhodes is told to 'keep them up' by referee Howard Foster as a shot strays low.
Rhodes is looking confident in the sixth as he gets through with a number of shots to the head inside the first minute. Moore seemed to have eased off a bit, but then comes back with a left and right to the head.
He picks up the pace in the second half of the round then Rhodes lands a right to the body followed by a right hook to the head and both men trade punches as the bell sounds. Much of the crowd has remained standing throughout this 'war ' of a fight.
After half a minute of round seven - Rhodes lands a right to the face and Moore topples over sideways. He takes the count but looks dazed from my ringside position. His head seems to clear quickly, although he looks tired, and he gets back into the fight.
Rhodes goes for a big uppercut and then Moore unleashes an uppercut. Ricky Hatton is on his feet ringside - shouting to his friend Jamie. In the last minute of the frame, Moore throws a lovely right-left hook combination to the head and now Rhodes steps back.
Rhodes lands a big right to the temple of Moore, who falls back on the ropes. Keeping upright only because the ropes are supporting him, Moore tries to cover up as Rhodes goes at him with a number of head-shots until referee Foster finally stops the contest with 25 seconds of the round remaining.
A re-invigorated Ryan Rhodes is the new European Champion! Team Rhodes are ecstatic!
Rhodes improves to 43 wins (29 by KO) and 4 losses (2 by KO), while Moore drops to 32 wins (23 by KO) and 4 losses (3 by KO).
Gary Davies (St. Helens) v Ian Napa (Hackney)
12 x 3 British Bantamweight Title
In the first defence of his British Bantamweight title, which he won in April against Matthew Edmonds, Gary Davies faced Ian 'Dappa' Napa.
Taller Davies gets off to a fast start against experienced Napa. The busier of the two men - Davies looks sharp as he lands a decent right to the head of his smaller opponent. He continues to look focussed throughout the first four rounds, with Napa not looking to have settled in to the fight.
Napa starts to pick it up around the fifth frame. Adopting his usual awkward stance - sideways on, with left shoulder facing his opponent, Napa starts to raise his activity level, throwing a decent uppercut which just skims the chin of Davies.
He follows it up with two left hooks which sweep across the back of Davies' head but Davies comes back with two right hooks of his own as they tangle on the ropes. Davies throws some big shots which just miss their mark. Davies's nose is bleeding as he goes back to his corner.
The sixth round sees Napa enjoy the close-up work, landing a couple of clean right hooks to the face of Davies, who takes the shots and comes back with an overhand right which just misses its mark again. Davies's stable-mate Paul Edwards shouts encouragement from ringside throughout the contest.
Davies starts to put some distance between himself and Napa and finds success with long-reaching shots, nipping in and out to avoid Napa's counter-punches. Davies lands a decent uppercut as they end the eighth. Napa has a better round nine as he commands centre of the ring.
At the start of the eleventh, Napa whips out the left jab which rocks back Davies' head. Napa ups the pressure, landing a couple of decent uppercuts, then with just over a minute to go - he lands a big right hook to the face.
Davies clearly 'felt' the shot but keeps on his feet and continues boxing. Napa lands a left hook in the closing half minute of the round and both men hold on in the corner.
Davies is the busier of the two men in the twelfth and final round, though Napa gets through with a couple of solid head shots.
Sky stats reveal that although Davies had the better work rate of 610 punches against Napa's 581, Napa had the better success at 21% as opposed to 13% for Davies.
Napa wins by majority decision 115-114, 116-112, 114-114 and once again lifts the British bantamweight belt.
His record now stands at 19 wins (1 by KO) and 7 losses (1 by KO), while Davies drops to 9 wins (7 by KO), 3 losses (1 by KO) and 1 draw.
Chris Edwards (Soke-on-Trent) v Shinny Bayaar (Oldham)
12 x 3 British Flyweight Title
This was Edwards's second defence of the title which he won in January against Wayne Bloy. Once the bell rings, southpaw Bayaar gets through with some decent head shots which snap back the head of the Stoke man, but Edwards keeps busy and nimble on his feet as always!
Edwards doesn't look as settled in this fight though and Bayaar looks the more confident. An accidental clash of heads caused a cut to the right eye of Bayaar in round six, but it's not a bad cut and fighting continues.
Round nine sees Bayaar landing some decent body-shots followed by a left to the head which sends Edwards toppling backwards but he keeps upright.
Edwards lands a decent right to the nose of Bayaar in the eleventh and Team Edwards cheer "and again, Chrissy!".
At the end of the contest, Sky Sports stats reveal that Bayaar had the better work-rate and success, landing 189 of 713 punches as opposed to 158 of 692 punches for Edwards.
Bayaar wins by majority decision 117-112, 113-115 and 115-113. His record now stands at 14 wins (4 by KO), 4 losses and 1 draw while Edwards drops to 13 wins (4 by KO), 14 losses (3 by KO) and 3 draws.
Brian Rose (Blackpool) v Jason Rushton (Doncaster)
10 x 3 vacant Central Area Light Middleweight Title
Popular Blackpool boxer Brian Rose fought his first ten-round contest against experienced Jason Rushton of Doncaster.
Rushton put up a good contest against rangy Rose - taking time to 'goad' his opponent - but he took some decent head shots which ultimately resulted in his defeat.
In the closing seconds of the tenth and final round, Rushton found himself on the canvas. He was counted out by referee Steve Gray and although Rushton got up for the official decision, he later collapsed outside his dressing room and was rushed to hospital with a suspected bleed on the brain.
The contest immediately after this one was between Brett Flourney and Kevin McIntyre, however, the bout was stopped during round two as ringside doctors were called away to tend to Rushton.
Rules state that fighting cannot take place without the attendance of a ringside doctor so the bout was scored a 'No Contest'. The last fight of the night, between Paul Edwards and Mike Robinson, also had to be cancelled for the same reason.
David Price (Liverpool) v Yavor Marinchev (Bulgaria)
4 x 3 Heavyweight Contest
Former 2008 Olympic Bronze Medallist Price notched up his third pro win in succession against no losses with a 40-36 points win over 'have-a-go' boxer Marinchev, who drops to 5 wins (3 by KO) and 16 losses (1 by KO).
Jack Arnfield (Blackpool) v Alex Spitko (Mansfield)
4 x 3 Light Middleweight Contest
Young Arnfield gave another polished display of boxing against experienced 'Pitbull' Spitko to get the points win, 40-37. Arnfield's record improves to 12 wins (3 by KO) and no losses while Spitko drops to 6 wins (4 by KO) and 17 losses (6 by KO).
Rick Godding (Bolton) v Youssef Al Hamidi (Dewsbury)
4 x 3 Light Welterweight Contest
A close contest between these two but with Godding secures the points win 39-38 against experienced Al Hamidi. Godding improves to 10 wins (1 by KO) and no losses while Al Hamidi falls to 6 wins (1 by KO), 21 losses (1 by KO) and 1 draw.
Karl Place (Manchester) v Abul Taher (Coventry)
4 x 3 Lightweight Contest
Karl 'Bulbhead' Place made short work of his opponent, scoring a second round knockout over late replacement Taher. Place improves to 6 wins (3 by KO) and no losses while Taher drops to 2 wins and 2 losses (1 by KO).