**With Slideshow**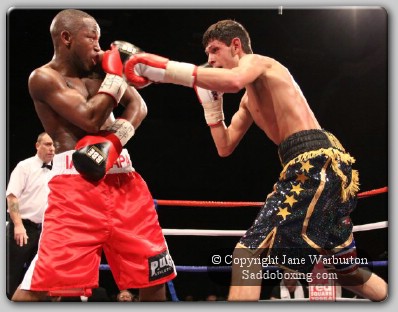 © Jane Warburton / Saddo Boxing
On Friday night the Brentwood Centre, Essex, England, Frank Maloney Promotions hosted a fight-night which would headline three title fights.
The main event saw Ian Napa (Hackney) face Jamie McDonnell (Doncaster)for the British and Commonwealth Bantamweight Titles.
Hackney Boxer – Ian Napa, defended his British Bantamweight Title for the first time having won the belt from Gary Davies in October last year.
Doncaster Man – McDonnell, towered over the little 'Dappa One' as they faced each other in the ring. Seven inches taller than Napa – McDonnell also has a big reach advantage.
McDonnell gets off to a good start against Napa using his long reaching left and countering as Napa goes in with the left but the Challenger sustains a cut to the left brow in the last minute of this first round.
McDonnell continues to look confident and quick on his feet in round two.
Napa picks it up in round three - digging in some body shots. A right lands cleanly to the face of McDonnell in the closing minute and he clearly 'felt' it. Napa goes for the body again but McDonnell comes back with the long jab. It's a close round four with both men landing shots. McDonnell has a bruise under the right eye now but the cut brow seems to be holding up.
McDonnell smartly gets himself out of tangles – moving Napa to one-side. 'Make him move', shouts McDonnell's corner in the sixth. It's a good round seven for Napa who lands with a decent right to the face of his opponent. So far (according to Sky Sports Statistics) Napa has landed 68 punches as opposed to McDonnell's 54.
Napa lands a decent punch at the start of the ninth round and then showboats on the ropes when McDonnell lands a right mid-way through the round as if to say 'was that all you've got?'. Moments later and Napa lands another right to the face of the Doncaster man. "Move him about!" shouts McDonnell's corner again.
The eleventh sees McDonnell 'up' the work-rate again and as they begin the twelfth and final round both men are working up close. McDonnell 'goes for it' throughout the final three minutes – finishing strongly.
Sky Stats revealed that McDonnell landed 105 of 753 punches thrown (13% success rate), while Napa landed 131 of 529 (24% success).
Jamie McDonnell wins by Split Decision 115-114; 114-115; 117-112 and is the new British and Commonwealth Bantamweight Champion.
McDonnell improves to 13 wins (5 by KO) 2 losses and 1 draw, while Napa (who was scheduled for a European Title Shot) now drops to 19 wins (1 by KO) 8 losses (1 by KO).
There were two other title fights, along with a full undercard, on the bill.
Ashley Sexton (Cheshunt) v Usman Ahmed (Derby)
10 x 3 BBBofC English Flyweight Title
Ashley Sexton made quick work of jaunty Usman Ahmed when he landed a stunning roundhouse right shot that swept along Usman's jaw with precision in the first round – sending 'Uzzy' crashing heavily to the canvas. Despite the spectacular fall – and concerns of his team - Usman was soon on his feet (and – I was told by Jason Shinfield this morning - is fine).
Flash Ash wins the English Flyweight Title - securing his ninth pro win (5 by KO). Usman Ahmed drops to 6 wins 3 losses (1 by KO) and 1 draw.
George Groves (Hammersmith) v Grigor Sarohanian (Bulgaria)
6 x 3 Super Middleweight Contest
Sarahonian looked to have 'come to have a go' as they started this six rounder but Saint George found his target more regularly in round two sending the Bulgarian to the canvas from a big right mid-way through the round.
An unsteady Sarohanian gets a precious few seconds rest as he waits for his gumshield to be retrieved. Fighting resumes but Groves has his opponent backed in the corner and lands another decent right just before the bell signals the end of the second.
Inside the first minute of round three, Sarohanian goes down from a neat left shot to the body and while the Bulgarian (still kneeling) is being counted – the towel is thrown in from the corner.
Groves wins by TKO round three to secure his eighth win (6 by KO) while Sarohanian drops to 2 wins and 3 losses (1 by KO).
Tom Dallas (Chatham) v Yavor Marinchev (Bulgaria)
6 x 3 Heavyweight Contest
Heavyweight Tom Dallas was another quick finisher Friday night. Dominating from the start, the six feet six giant kept Marinchev on the back foot from the start. After a number of thumping body-shots, Marinchev drops to one knee inside the last half minute of the second round. He continues though looking uncomfortable.
Dallas targets the same spot on Marinchev's torso and moments later he is down again. He gets up for the count but the bell ends the round. Marinchev retires on his stool at the end of the second. Dallas wins by TKO to notch up his 9th win (7 by KO). Marinchev drops to 5 wins (3 by KO) 18 losses (2 by KO).
Larry Olubamiwo (Hackney) v Scott Belshaw (N.Ireland)
6 x 3 Heavyweight Contest
Belshaw goes down to the canvas inside the first half minute of round one from a right to the head.Trying hard to keep away from Olubamiwo's big punches – taller Belshaw dips low to target the body of his opponent. But he finds himself on the canvas again half a minute later. He is on his feet for a couple of seconds before going down again but this time Referee Hinds tells him to 'get up' and does not count it as a knockdown. Seconds later he is bundled over again and has to take another count. Referee Hinds calls a halt to the contest. Olubamiwo wins by first round stoppage.
Olibamiwo's record now stands at 7 wins (6 by KO) 1 loss while Belshaw drops to 10 wins (7 by KO) 4 losses (3 by KO).
Lee Cook (Morden) v Ben Murphy (Brighton)
10 x 3 Southern Area Lightweight Title
Lee Cook defended his Southern Area Title for the first time Friday night – but lost out on points to Murphy. The 99-94 score gave Murphy the decisive win.
Murphy's record now stands at 7 wins (3 by KO) 2 losses and 1 draw while Cooky drops to 12 wins (3 by KO) 2 losses (1 by KO) and 1 draw.
Other results include:
Travis Dickinson (Durham) v Hastings Rasani (Birmingham)
6 x 3 Light Heavyweight Contest
Dickinson found himself up against a re-invigorated Hastings Rasani who gave the Durham man plenty of problems (including cuts) in this 6 rounder, but Dickinson just edged it with a marginal points win 58-57.
Dickinson improves to 5 wins (3 by KO) while Rasani drops to 23 wins (16 by KO) 45 losses (19 by KO) and 4 draws.
Akaash Bhatia (Wembley) v Mickey Coveney (West Ham)
6 x 3 Featherweight Contest
Kash the Bash wins on points and improves to 15 wins (5 by KO) and 1 loss while Coveney drops to 9 wins (1 by KO) 9 losses (2 by KO).
Michael Maguire (Peterborough) v Pavels Semkovs (Mansfield)
6 x 3 Super Bantamweight Contest
Maguire wins on points and improves to 6 wins (2 by KO) while Semkovs drops to 2 wins (2 by KO) 12 losses.
Tony Hill (Southampton) v Alex Spitko (Mansfield)
4 x 3 Middleweight Contest
Hill wins on points 40-36 and improves to 4 wins (1 by KO) while Spitko drops to 6 wins (4 by KO) 20 losses (8 by KO).
Erick Ochieng (Hackney) v Jon Harrison (Plymouth)
4 x 3 Super Middleweight Contest
Ochieng notches up his third pro win while Harrison drops to 10 wins (1 by KO) 17 losses (5 by KO) and 1 draw.
Martin Welsh (Swanley) v Terry Fletcher (Mansfield)
4 x 3 Welterweight Contest
Welsh wins on points 40-36 and improves to 4 wins (1 by KO) while Fletcher drops to 3 wins (1 by KO) and 1 loss.