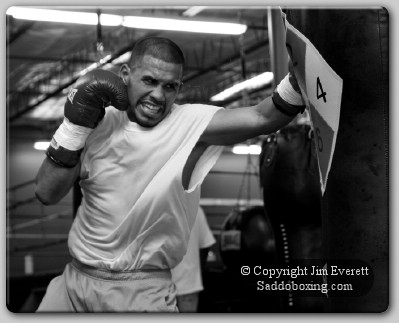 Click the above Image for all Photos from the Training Camp
Saddoboxing had the unique opportunity to visit Juan "Baby Bull" Diaz at the Savannah Boxing Club in Houston, Texas as he prepares for his upcoming rematch against Juan Manuel Marquez. They will face each other on July 31 at the Mandalay Bay Resort and Casino and be broadcast on HBO Pay Per View.
Diaz 35-3 (17) was stopped in his first outing with Marquez 50-5-1 (37) which was Ring Magazine's 2009 Fight of the Year and is anxious to write a new chapter with a different outcome in their rematch.
During my two day stay in Houston the temperature reached about 101 degrees each day. Walking to and from the car was enough to cause me to bead up and sweat and after a few hours of taking photos during training was enough to cause my entire shirt to be drenched.
For me and possibly most people the heat would be enough to make you want to just sit in air conditioning and try to stay cool, but for Juan Diaz it seemed to drive him even harder towards his goals. After a morning aerobic and strength training session and then an early afternoon session of sparring and training Diaz was tired, exhausted, covered in sweat but at the same time excited, motivated and ready for more.
We had a chance to sit and talk after a training session to discuss his motivation and preparation for his rematch.
Saddoboxing: How long have you been in training camp?
Juan Diaz: "We are about four to five weeks into training camp; we started training ten weeks before the fight."
SB: This is a longer training camp than you are accustomed to, how do you feel about the extended camp?
JD: "Psychologically it makes me feel better, the last few fights I would come into the gym starting six weeks out. I would do shadow boxing and move around a little bit but really start picking it up at six weeks.
This time we started ten weeks out just hitting it hard and at least psychologically it makes me feel better. Once a week ends I feel like oh man, ten more, nine, eight… it seems a lot longer but I like it, it makes me feel mentally ready."
SB: It's quite an experience seeing you train first hand and see what you go through; it almost looks as if when your done training you still have a lot of energy and like you want to do more.
JD: "Yes, I get into the zone and it's kind of like I become a zombie. Where a zombie just gets up and walks it doesn't matter what gets in his way, whatever happens, they knock him down he gets back up with his hands out just walking. That's how I feel when I start training for a fight it's just mentally engraved in me that I've got to do more, I have to keep pushing myself."
SB: So it becomes all routine then?
JD: "Yes it's all a routine, as you can see by looking at me you can see the bruises on my face starting off and they don't bother me. At first I get these bruises but a few weeks go by after sparring and your going to see my face clean. I think my body adjusts to the punching, getting hit in the face and everything else that comes with it; the hard work, the training, the heat, the exhaustion, everything."
SB: I got a chance to see two days worth of your routine, walk me through your typical routine for the week.
JD: "The typical routine is I wake up at six in the morning and meet my swim coach and swim for an hour. After swimming I lift weights until about nine and head home to get some breakfast.
I arrive at the gym around 11:30 AM for sparring, heavy bag, stair master and then later in the afternoon I work on recovery and therapy. I will see my chiropractor for adjustments and then I get therapy on my legs and arms to recover for the next day."
SB: In addition to your training does your diet have to be very strict?
JD: "My diet has to be very strict in me eating right. If I don't eat what my dietician recommends I can possibly lose too much weight or if I eat things outside the diet I can possibly gain the weight. I make sure to stay hydrated with water and Gatorade.
Sometimes at the end of the day I want to have a big ol' juicy fat hamburger. That doesn't help either so I have to follow my diet very strictly."
SB: Do you take any days off for eating where you can have whatever you want?
JD: "Sundays. That's when I meet my family at church and after we get together to go eat somewhere. Believe it or not my favorite is IHOP (International House of Pancakes). I fill those pancakes up with syrup! That's what I love to do on Sundays."
SB: How do deal with your downtime in between training? You used to have school to keep you occupied; you also mentioned you started to do the practice test for the LSATs which you are going to put off until after the fight. What do you do with your downtime now?
JD: "I love my downtime right now. I'm able to recover a little bit better as far as my body is concerned. I'm able to do therapy, go in the whirlpool, get massages and get adjusted. I'm able to do a lot of things I wasn't able to do when I was in school.
For example I got home last night about eight and I was able to relax for two good hours. I didn't have to worry about concentrating on studying."
SB: Do you miss going to school?
JD: "I miss seeing friends around where we could talk and shoot the breeze. But as far as the workload is concerned I don't miss it at all."
SB: Does training in your hometown pose any distractions for you?
JD: "At times it does and I don't meant distractions like me wanting to go out or stay out late or not do what I'm suppose to do. But having friends come over to my house and wanting to talk with me and especially in the summer they just want to sit and talk for hours or they want an autograph. I got an apartment where no one knows where it is other than my family so I wouldn't have those types of distractions."
SB: Outside of physical distractions do you have any mental distractions? For example I'm sure you have good and bad days during training, do you ever start second guessing yourself or do you just understand that you are going to have good and bad days during training. How do you deal with that on a day to day basis?
JD: "Like you are saying I try to deal with it on a day to day basis. I have a friend who is a psychologist and she told me you can't do anything about bad thoughts or about having a bad day. Think about it as a wave. Your thoughts are like waves, can you stop a wave from going over you or past you? I really thought about what she was saying and think she is right. A thought comes in and out the same way and you can't stop and dwell on it, just let it past by and continue doing what you are doing.
Last week when I started sparring the first day I didn't feel good at all. It was my first time in the ring, my hands were heavy and I couldn't let my punches go like I wanted to and I felt kind of bad after training. But the next day when I came back to spar and I was able to let my hands go a little more and felt better. I understand I'm going to have good and bad days in the gym."
SB: From a motivation standpoint how much pressure do you have on yourself with this fight being a rematch?
JD: "Actually I don't have any pressure at all. I already put it in my head no matter what happens in this fight I'm going to be ok. I looked at all my assets that I have; I don't have any liabilities right now, I have nothing but assets as far as me living a good comfortable life from here on out whether I keep on boxing or not.
I see this fight as a fight that I'm fighting for myself because I want to and not specifically for anybody else. I'm doing it because I love the sport of boxing, I love the competition, I love the one on one sport. That's the only reason I'm doing it.
I really put it in my head if I win this fight, perfect. I want to win this fight and I'm training hard to win this fight. If I don't I think about it like that wave, July 31 can be a great night or a bad night. But regardless of the outcome next week somebody else will be fighting on a pay per view or on HBO. Why am I going to dwell on that night if it's good or bad? I will just continue with my life and if I'm successful I will keep fighting."
SB: Do you have more responsibility to promote a pay per view fight?
JD: "At first when they told me it would be on pay per view I thought I did. I figure I would be going to the major cities like Los Angeles, New York and Las Vegas promoting the fight. But the first I have heard of anything mentioned is possibly doing a media work out in early July. At first I thought it would require a lot of my time to promote and advertise but as of right now that will probably be it until fight week."
SB: Would you like to send a message out to your fans?
JD: "I'm glad and excited and thank God that I got this opportunity to fight July 31st and that I'm getting my rematch. I will be able to close my first chapter of my life against Marquez from last year and now I will have a new chapter. In my mind and in my near future it has a great ending because I know I'm going to be a winner.
I want to thank all my fans who supported me throughout these past years. It's been a roller coaster ride these past two years. My first lost against Campbell, came back and won against Katsidis, lost against Marquez, then Malignaggi and Malignaggi again and now Marquez again. I want to tell them that I'm training hard, I'm sweating every day, and taking punches to give my fans a great night on July 31st."
SB: Thank you for inviting me to your camp, I enjoyed watching you in action. I hope your camp continues to go well and as always wish you the best.
JD: "Thank you for visiting, I appreciate it."