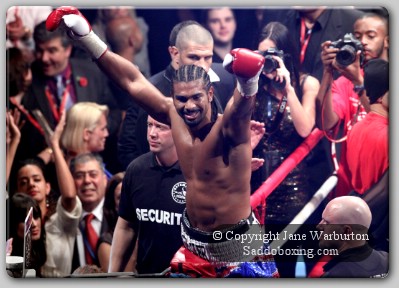 Click the above Image for more Photos
Last night, at the MEN Arena in Manchester, England, David Haye retained his WBA Heavyweight Title by a third round demolition of Audley Harrison.
It had been an 'odd' start to the fight; Harrison looked nervous and both men were over-cautious, hardly throwing a shot - which annoyed the waiting crowd, who began to boo.
In round two, even the Referee had to encourage them to 'fight' but it seems Haye was 'waiting' for the third round. Harrison hit the canvas just past mid-way through the third after a flurry of shots from the Champion.
Fighting resumes and Haye dashes across to his opponent, landing shots to the head. Harrison's head was rocked back and Referee Luis Pabon jumped in to stop the contest.
Afterward, Haye went over to Harrison and it seemed they were enemies no more. But Harrison looked a broken man as he left the venue to a chorus of boos.
Haye has his sights set on the Klitschko's to unify the Heavyweight division and promises that he WILL fight them next year.