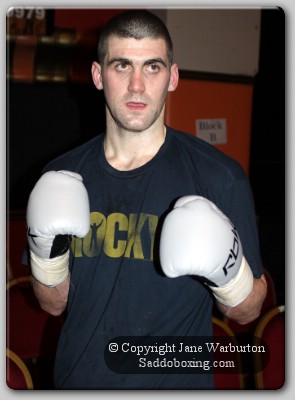 Click the above Image for more Photos by Jane Warburton
Saturday night, at the atmospheric Olympia in Liverpool, England, Stephen Vaughan promoted a fight-card of five contests featuring local boxers. Billed as 'Back with a Bang!' – the fight-card headlined local man Michael 'Rocky' Fielding.
Michael 'Rocky' Fielding (Liverpool) v Lee Duncan (Sheffield)
6 x 2 Light Heavyweight Contest
Popular 'Rocky' Fielding had big support from the Liverpool crowd as he faced awkward Ingle-Boxer 'Serious' Lee Duncan. Rangey Duncan starts the fight in 'Fencing-stance' teasing his opponent with the right glove.
It's a tough test for the favourite (on his second pro-outing) and he takes time to suss out his tricky opponent. But the Liverpool man takes charge in the second half of the fight to secure a points win.
Fielding improves to 2 wins no losses, while Duncan drops to 2 wins 5 losses (1 by KO) and 2 draws.
Steve Harkin (Liverpool) v Alex Spitko (Mansfield)
4 x 3 Super Middleweight Contest
Harkin faced last minute opponent – experienced Latvian-born Spitko. But this was a messy, grappling fight, particularly in the first half of this contest.
Both men scored with shots but there was too much holding and grabbing during this fight and it made for a frustrating contest. Harkin secures the points win and improves to 5 wins (1 by KO) and 1 draw, while Spitko drops to 7 wins (5 by KO) 30 losses (12 by KO).
Liam Vaughan (Liverpool) v Jason Nesbitt (Walsall)
6 x 2 Welterweight Contest
After last weeks win from Nesbitt, I wondered if the winning streak would continue but it was a different Nesbitt who came out to face Debutant Vaughan.
The local man displayed some nice moves as he virtually used the Walsall Boxer as a punch-bag in the first couple of rounds (!) but by the end of the third frame, Nesbitt begins to throw some punches which find their target. Both men were warned to 'watch the heads' by Referee John Latham.
Vaughan continues with some nice foot-work and combinations of punches putting Nesbitt under pressure in the last half minute of the fifth round.
Vaughan secures a points win for his first pro-outing.
Nesbitt drops to 9 wins (6 by KO) 118 losses (11 by KO) and 2 draws.
Joe Tonks (Liverpool) v Abdul Rashid (Manchester)
6 x 2 Lightweight Contest'
Debutant Tonks had a testing first contest against Manchester boxer - Rashid. The fight got off to a steady start but Tonks was pressured in the fourth round and urged to 'keep working' by his corner.
The Debutant finishes the fifth round strongly with a clubbing right to the face of Rashid and goes on to secure a hard-earned points win. Rashid drops to 1 win and 6 losses.
Kevin Satchell (Liverpool) v Francis Croes (Middlesbrough)
6 x 2 Lightweight Contest
A decent fight between these two boxers who 'go at it' with a flurry of shots in the second round. Satchell piles on the pressure in the third – keeping up the busier work-rate, although Croes does land with a couple of decent shots of his own.
Satch finishes the fourth round strong, but both men are warned to 'watch the heads'. There's a big effort from Croes in the final round – but Satchell was on-target with the head punches and Croes's nose was bloody. The Middlesbrough man did well to hang on till the final bell.
Satchell wins on points to notch up his second pro-win while Croes drops to 1 win (1 by KO) 10 losses.