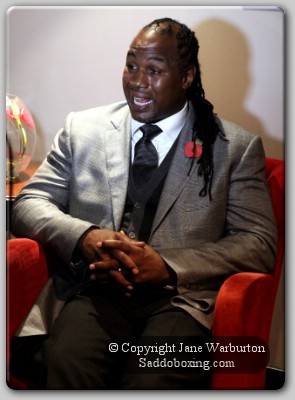 Click the above Image for more Photos by Jane Warburton
This afternoon, at The 'MaMaison' Hotel in the city of Manchester, England, former undisputed World Heavyweight Champion - Lennox Lewis, took time out of his busy schedule to speak to media about the Heavyweight scene and predominantly the Haye versus Harrison fight tomorrow night.
Having attended the official weigh-in at The Lowry, Salford Quays, earlier today – Lennox said he had noticed how excited the crowd were, chanting for both men ('You can do it' from the Harrison supporters and 'No You Can't!' from the Haye fans). It certainly was a lively atmosphere and many boxing fans were also shouting to Lennox in the hope he might wave to them.
Lennox will be ringside for tomorrows' fight-night, but despite media questioning – he wasn't going to predict a winner, instead giving credit to both fighters. "Hats off to David Haye for taking the fight, because you should be prepared to fight anyone. To be the best in the world you have to take on anyone", he said.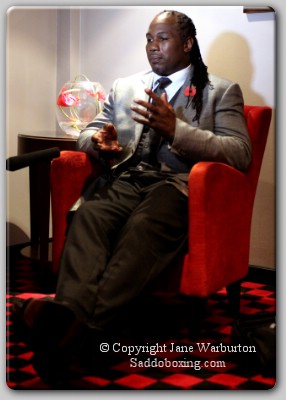 Click the above Image for more Photos by Jane Warburton
It was suggested by media that Haye's focus was on the Klitschko Brothers and perhaps Harrison was 'part of the plan'.
"You have to box guys that are that size. I boxed a lot of short guys, then when I fought Tyson – I was used to it." Lennox explained.
"I see David Haye in the same league as Evander Holyfield (to a certain degree). In order to be a King, the disadvantages are reach, height and weight, but 'he' is working towards it - he is preparing to fight tall guys. If it's a six foot five guy – then prepare for a tall – quicker guy. He's making the right steps towards them [the Klitschko's]."
Regarding his own boxing 'life' before he retired six years ago, Lennox said that he 'didn't miss it' but that it 'brought back fond memories' and as for a glorious return to boxing…..he was adamant that it wouldn't happen, he has no intention of making a come-back!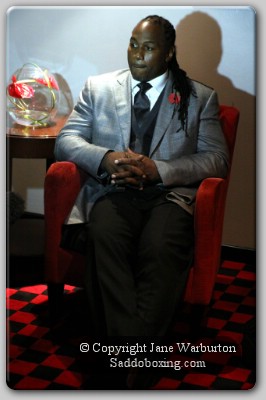 Click the above Image for more Photos by Jane Warburton