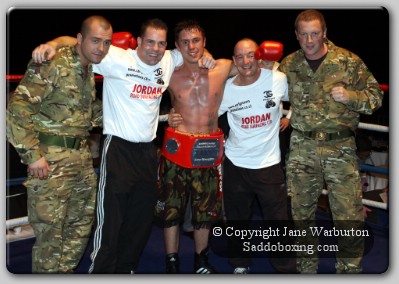 Click the above Image for more Photos by Jane Warburton
Friday night, at the Doncaster Dome, England , Carl Greaves promoted a Dinner Show including a full bill of eight contests culminating in the Midlands Area Lightweight Title clash between Amir Unsworth and Steve Saville.
Amir Unsworth (Sleaford) v Steve Saville (Walsall)
Vacant BBBofC Midlands Area Lightweight Title
'Unzy' entered the ring alongside his Army comrades. He had big support from the crowd but 'Bomber' Saville had a noisy crowd there too!
Saville finds himself on the canvas in the closing seconds of the opening round from a head-shot which didn't look to be a solid punch – more of a glancing blow.
The Walsall man had also sustained a cut to the left brow – so it was a disastrous start for him in this Title bout. It was an all-action second round with both men landing big body-punches. Saville is pressured on the ropes – but catches Unzy as he fights his way out and the Sleaford man looked 'wobbled' by it.
Round three and Saville takes a number of solid body-punches. Backed up on the ropes (almost sitting on them) he is forced to try and cover up, but Unsworth is picking his shots right behind the elbow and Saville goes down.
Saville gets up too late for the count and Unsworth wins the Title.
Unsworth improves to 12 wins (2 by KO), 3 losses (1 by KO) and 1 draw, while Saville drops to 18 wins (8 by KO) and 9 losses (4 by KO).
Jason Ball (Doncaster) v Michael Smith (Dewsbury)
6 x 2 Light Middleweight Contest
Debutant Ball (who – for me – looked like a little David Haye!) seemed a bit slow to react in the first round with Smith looking the sharper of the two. Round two and both men came out with a flurry of shots aimed at each other. Smith looked the better boxer but did get caught a couple of times by the local man.
Fifth round and you'd have thought it was the final frame! Both men 'go at it' with a flurry of shots. They both find success but Smith's uppercut was perhaps the most eye-catching. A great last round but Ball had slowed – Smith finishes better.
A nice fight between these two with Smith getting the points win 58-56. Ball loses his first pro-bout on points while Smith improves to 1 win and 1 draw with no losses.
Laura Saperstein (London) v Milena Koleva (Bulgaria)
6x2 Featherweight Contest
Australian-born Saperstein had a tough outing against Bulgarian Koleva. Although Saperstein had a decent round – it was a close first frame. Both ladies were a bit 'twitchy' in the second as they eyed each other up.
Saperstein almost chases her opponent in the fourth before being put under pressure by Koleva. As Saperstein goes in with a shot – she is caught by a right and it seems to take her some time to recover from it.
Saperstein 'digs in' to get the points win 58-57 but - having not fought since June – said afterward "That was hard!". She keeps her undefeated record of 10 wins (2 by KO) and 1 draw, while Koleva drops to 3 wins and 1 loss.
Gavin McDonnell (Doncaster) v Plamen Kostadinov (Bulgaria)
4 x 3 Featherweight Contest
Debutant McDonnell – who's brother Jamie was ringside – got off to a good start, dominating from centre of ring. A lively opening round with sometimes wild shots from these two.
Round two and the Bulgarian is forced to edge around the ropes while McDonnell keeps his central position. There's not much being thrown by Kostadinov this round – McDonnell is doing all the work! "Keep Going Bruv!" shouts Jamie McDonnell from ringside.
Kostadinov struggles in the third and does well to survive it. He ends up on the canvas in the closing seconds of the fourth and is counted.
McDonnell wins on points to notch up his first pro-win, while Kostadinov drops to 1 win and 5 losses (1 by KO).
Jonny Musgrave (Barnsley) v Tommy Marshall (Somerset)
4 x 3 Light Middleweight Contest
Marshall sustains a cut to the left brow in the opener. The fight is a bit messy at times. Round three sees Marshall half-way through the ropes. Musgrave seemed to be taking some big shots but wasn't fazed by them.
He steps it up in the fourth and adopts a habit of 'slipping' his opponent who ended up through the ropes on (what seemed like) numerous occasions! At one point he went head-first in to the neutral corner post!
Musgrave gets the points win and improves to 8 wins and 9 losses, while Marshall drops to 2 wins, 6 losses (1 KO) and 1 draw.
Martin Shaw (Rotherham) v Johnny Greaves (East Ham)
4 x 3 Light Welterweight Contest
Shaw faced tricky and experienced Greaves in this four rounder and did well to survive the first round after being rocked by a big right from the East Ham man.
Shaw has a better second round – putting Greaves under pressure briefly in the corner, but Greaves was definitely 'fired-up' for this contest! Shaw comes out 'guns-blazing' in the third frame but character-full Greaves 'shrugs it off' and instead – calls his opponent to him.
A better round for Shaw. The fourth and final round sees Greaves warned for 'hitting after a break', a quick apology to the Referee and he goes back to 'goading' Shaw.
Shaw gets the points win 39-37 and improves to 3 wins (1 by KO), while Greaves drops to 3 wins (1 by KO) and 59 losses (9 by KO).
Ross Blackwell (Wombwell) v Mitko Arnaudov (Bulgaria)
4 x 3 Featherweight Contest
Debutant Blackwell notches up his first pro-win by first round TKO. Arnaudov drops to no wins and 4 losses (3 by KO).