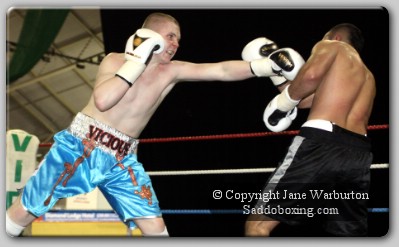 Click the above Image for more Photos from this Event
Last night, at the Velodrome (National Cycling Centre) in Manchester, England, Steve Wood / VIP Promotions hosted a packed fight-card of ten contests.
The 'Bill' entitled 'Putting Wheels in Motion', featured local boxers – with Kieran Farrell as the main event.
Kieran Farrell (Heywood) v Ibrar Riyaz (Reading)
6 x 3 Light Welterweight Contest
'Vicious' Kieran Farrell pressured Albanian-born Riyaz from the 'off', but is warned twice in the first round for delivering low blows by Referee Steve Gray. After a pressured attack from Farrell – Riyaz gives a little verbal 'whoop' as if to say 'yeah – I enjoyed that!'
It's a full-on contest and Farrell starts to target the body of his opponent, but by the end of the second round he is deducted a point for the low blows. During the third round Farrell seems to be looking a bit despondent. He is throwing everything at Riyaz but this tough Reading man is taking it and giving back!
Farrell 'picks it up' again in the fourth and both men continue to keep busy for the remaining rounds with Riyaz finishing the sixth round strongly.
It's a good win for Farrell on points 59-55. He improves to 9 wins (2 by KO) no losses, while a Riyaz drops to 4 wins (2 by KO) 18 losses (1 by KO) and 1 draw.
Tony Quigley (Liverpool) v Artsiom Salomka (Belarus)
4 x 3 Super-Middleweight Contest
Prizefighter Contender – Quigley, had a bad night at the office! The Liverpool man found himself on the canvas mid-way through the first and although he sees it out to the end of the contest – he looked sluggish and far from happy in there.
Salomka gave the better fight and his trainer didn't hide his disapproval at the decision – a draw (38-38).
Quigley's record now stands at 13 wins (6 by KO) 2 losses (1 by KO) and 1 draw. Salomka's record stands at 10 wins (3 by KO) 19 losses (7 by KO) and 1 draw.
Quigley now goes on to the Prizefighter Tournament on the 23rd March at Liverpool's Olympia.
Warren Tansey (Middleton) v Zahari Mutafchiev (Bulgaria)
4 x 3 Super Middleweight Contest
Tansey looked impressive but despite wobbling his Bulgarian opponent in every round – he couldn't knock him down. Mutafchiev gets through the first round then a right to the head in the second frame sees his knees dip. Moments later he is on unsteady legs again from a body-shot and in the closing minute he does well to keep upright.
Mutafchiev barely throws a shot in the third round – while Tansey virtually uses him as a punch-bag (!) The Bulgarian sees it out to the end and Tansey gets the points win 40-36.
Tansey improves to 5 wins (3 by KO) 1 loss and 1 draw, while Mutafchiev drops to 3 wins (1 by KO) 11 losses (1 by KO).
Austin Hornsby (Manchester) v Sean Gorman (Aberystwyth)
6 x 2 Welterweight Contest
It's a messy first round between these two with lots of grappling. By the third round, Gorman's nose is bloody but Hornsby is looking decidedly unsettled and seems to be struggling tonight. Gorman, on the other hand, is having a good contest. Round five and Referee Steve Gray calls both men together and tells them to 'clean it up'.
I (personally) felt Gorman did more, but it was Hornsby's glove raised aloft at the end of the contest. Gorman kneels on the canvas in disbelief. 'What more do I need to do?' he asks as he leans over the ropes.
Hornsby wins on points 59-57 to make it four out of four for the Manchester man, while a disappointed Gorman drops to 1 win (1 by KO) and 3 losses.
John Quigley (Liverpool) v Boyan Alexandrov (Sofia, Bulgaria)
4 x 3 Super Featherweight Contest
Debutant Quigley proved interesting to watch and very different from older brother Tony – also on tonight's bill. With the style of a young 'Prince Naseem' – he 'stands off' with gloves dangling low – intently eye-ing his opponent for the flicker of a move. A good round one for the southpaw with a 'come and get me' stance (!).
The fourth round sees Quigley sinking in the body-shots forcing his opponent to 'take a knee'. Moments later – Referee Latham jumps in as Quigley goes after Alexandrov.
Quigley notches up his first pro-win by TKO. Alexandrov drops to 1 win 1 loss (1 by KO).
Martyn Grainger (Heywood) v Billy Boyle (Sheffield)
4 x 3 Cruiserweight Contest
'Grid' Grainger made quick work of 'People's Poet' Boyle when he had him out in the first round.
Grainger wins by first round TKO and improves to 5 wins (2 by KO) 4 losses (2 by KO) while Boyle drops to 13 wins (7 by KO) 8 losses (4 by KO).
Kerry Hope (Merthyr Tydfil) v Dean Walker (Sheffield)
4 x 3 Light Heavyweight Contest
Welshman – Hope, had not fought since 2009 when he lost on points in a WBF Super Middleweight Title in America. Due to face Lee Noble, he now faced late opponent Walker.
A steady contest with Hope winning on points 40-37.
Hope improves to 13 wins (1 by KO) 3 losses (2 by KO) while Walker drops to 12 wins (1 by KO) 29 losses (8 by KO) and 3 draws.
Arran Michael Jnr (Middleton) v Dragomir Totev (Gabrovo, Bulgaria)
4 x 3 Light Heavyweight Contest
Debutant Michael must have been delighted with his first pro-win – scoring a second round TKO over Bulgarian Totev.
The Middleton man 'picks it up' in the second round and Totev gets a bloody nose from his efforts. Michael sinks in some decent body-shots and his opponent goes downhill from then on. Michael is left practically 'chasing' his opponent around the ring in the second frame till he is stopped by Referee John Latham.
Totev's record now stands at no wins 3 losses (1 by KO).
Joe Ainscough (Liverpool) v Lliya Shakura (Minsk, Belarus)
4 x 3 Super Middleweight Contest
Ainscough made quick work of his opponent scoring a TKO round one.
The 'Kirkdale Kid' has his opponent down on the canvas in the first half minute of the round then stops him later in the opener when Referee Steve Gray jumps in.
Ainscough improves to 7 wins (1 by KO) 2 losses and 1 draw, while Shakura drops to 5 wins (4 by KO) 3 losses (3 by KO).
Chris Betteridge (Wigan) v Andy Hardy (Nottingham)
4 x 3 Light Middleweight Contest
Betteridge sustains a graze under the right eye in round one, while Hardy gets a bad cut to the right brow (between the brows).
Betteridge finds success with lefts and rights to the head of his opponent but both keep busy till the last round when they look tired.
'Baby Bull' Betteridge notches up his second pro-win on points 39-37, while Hardy gets his second loss on points.