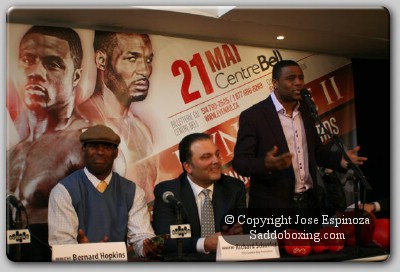 The buildup to one of the greatest matchups of 2011 started with a press conference that did not disappoint. Both Pascal and Hopkins made their cases and both spoke about being more aggressive this time around; the press conference ended with both fighters pushing and screaming at each other. It's a promising start!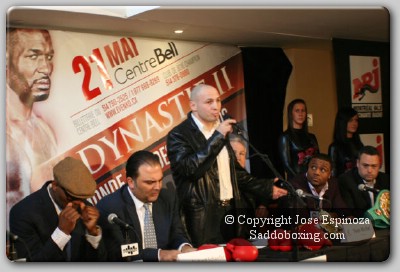 Adrian Diaconu was present at the press conference but Chad Dawson was not. Here's what Diaconu told the media.
Should Diaconu win his fight against Chad Dawson, a mandatory re-match would be inflicted on Diaconu and Dawson.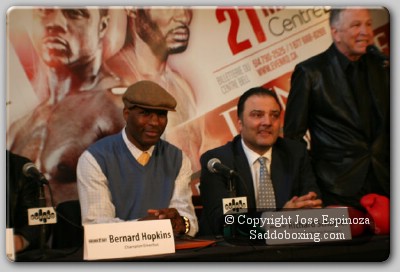 When speaking about the choice of fighting in Montreal, Richard Schaefer (CEO Golden Boy Promotions) made it clear that it was Hopkins who insisted on fighting Pascal in his hometown.
Here is what Schaefer had to say:
When Hopkins took the podium, he made two things clear: he was going to be more aggressive and he intends to make history by winning a belt at 46. Here is what Hopkins said with regards to his age:
Here is Hopkins as he addressed Pascal in the press conference:
Should Hopkins be victorious against Pascal, his next opponent will be Chad Dawson (should he win his bout against Diaconu).
Jean Pascal asks for a drug testing
When it came time for Pascal to make his case to the media, he became obsessed with the idea that Hopkins was using some sort of drug enhancing product to still be competitive. Pascal made allusions to Shane Mosley being caught on steroids while Nazim Richardson (Hopkins' current trainer) was managing his corner.
At first these allegations bothered very little an amused Hopkins but as Pascal insisted and insisted, an angry Bernard stood and pushed Pascal. This incited a small showing match that ended with Hopkins and Pascal storming out from the press conference.
Should Pascal score a victory, his next opponent will be against Chad Dawson (should he win his bout against Diaconu).
If the press conference is any indication, this fight will surely be one of the best of the coming year.