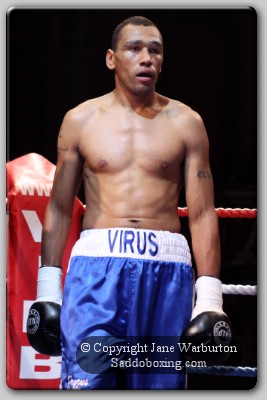 Click the above Image for more Photos from this Event
Last night, at The Olympia, Liverpool, England, Steve Wood – VIP Promotions hosted a fight-night of eight contests, billed as 'The Old, The New and the Brand New'.
The headliner saw the return of Liverpool's Courtney Fry, who hasn't fought since his loss to Nathan Cleverley two years ago. Last night he faced Jamie Ambler of Aberystwyth, Wales, over six rounds in the Cruiserweight Division.
Ambler spent most of the first round leaning against the ropes while Fry targets head and body with lefts and rights. Ambler continues to use the ropes and Fry secures a points win 60-54.
Fry improves to 14 wins (5 by KO) 3 losses (1 by KO), while Ambler drops to 9 wins (3 by KO) 50 losses (6 by KO) and 2 draws.
John Quigley (Liverpool) v Dan Naylor (Debut) (Gants Hill, London)
4 x 3 Super-Featherweight Contest
Johnny Quigley looked supremely confident as he stepped out against debutant Naylor. Not an easy opponent for your first contest (!) and Naylor struggled a bit to get in to a rhythm in the first round against the local man, but he settled in during the second round and despite taking a count in the third – kept his composure and did well against a tricky first opponent.
Quigley improves to 4 wins (1 by KO).
Terry Needham (Liverpool) v Nathan Clark (Debut) (Winsford)
4 x 3 Welterweight Contest
This had to be the most thrilling bout of the night! Despite only lasting two rounds – the winning 'edge' yoyo'd between both men. With Clark looking like he was about to get stopped, then Needham looking like he'd get stopped! Perhaps the nasty cut to Needham's left brow (again!) 'spurred' him on in the first round. The cut – from an accidental clash of heads (as per Referee John Latham) poured with blood. The second round saw both men caught with shots and it could easily have gone either way, but – under pressure on the ropes – Clarke was stopped at the end of the second frame.
A jubilant (and probably relieved!) Needham gets the stoppage win. He improves to 4 wins (2 by KO) 1 loss (1 by KO)
Mark Moran (Liverpool) v Ibrar Riyaz (Reading)
4 x 3 Featherweight Contest
Mark Moran also made a welcome return last night after a 16 month break – securing a points win (40-37) over experienced Riyaz.
Moran improves to 12 wins (3 by KO) 2 losses (2 by KO) and 1 draw, while Riyaz drops to 4 wins (2 by KO) 25 losses (2 by KO) and 1 draw.
James 'Jazza' Dickens (Liverpool) v Chris Riley (Middlesbrough)
4 x 3 Featherweight Contest
Southpaw 'Jazza' notches up another points win (40-36).
His record improves to 5 wins (1 by KO) while Riley drops to 3 wins (1 by KO) 5 losses and 2 draws.
Anthony Smith (Liverpool) v Ryan McNicol (Glasgow)
4 x 3 Super-Bantamweight Contest
Confident Smith (aka 'Twinny') notched up his second pro-win against Glaswegian – McNichol. The fight was halted early on while the ringside Doctor inspected McNichol's bleeding right ear – but it was deemed alright to continue. The Scot was then docked a point for use of the head in round three. Twinny kept focussed with rights to the head to secure the points win (40-35).
Smith's record stands at 2 wins (1 by KO), while McNichol drops to 2 wins 11 losses (1 by KO) and 2 draws.
Tom Carus (Debut) v Kristian Laight (Nuneaton)
4 x 3 Light-Welterweight Contest
Young Debutant – Tommy Carus, got his pro-career 'off the mark' with a points win over experienced Laight (40-36)
Laight – as usual – looked to be having a great time! His record now stands at 6 wins 103 losses (4 by KO) and 6 draws.
Tom Christian (Debut) (Liverpool) v Liam Griffiths (Bognor Regis)
4 x 3 Welterweight Contest
Debutant Christian scored a points win (40-36) over Griffiths.
Griffiths found success with long-reaching lefts but 'busier' Christian over-powered at times.
Griffiths' record stands at no wins 3 losses.