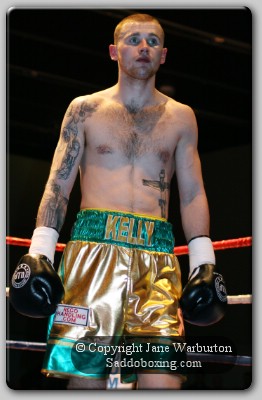 Click the above Image for more Photos from this Event
Boxing returned to the Wythenshawe Forum, Manchester last night, when Steve Wood of VIP Promotions hosted a fight-night of local Boxers.
Jimmy Kilrain Kelly jnr (Wythenshawe) v Simone Lucas (Nottingham)
6 x 3 Light-Middleweight Contest
The head-lining bout was short and sweet! Kelly junior looked serious as he waited in the ring to face a seemingly relaxed Lucas. But at the end of the frame a head-shot saw Lucas fall back heavily. Visibly dazed – the Nottingham man tried but could not get up for the count and the contest was waved off by Referee John Latham. Lucas was helped to his stool and did well to recover quickly. He stood at Kelly's side for the decision.
Kelly wins by knockout in 2 minutes 28 secs of round one and improves to 6 wins (4 by KO) no losses
While Lucas drops to 4 wins (1 by KO)16 losses (5 by KO) and 3 draws.
Luke Blackledge (Accrington) v Scott Edgar (Alloa, Scotland)
4 x 3 Super-Middleweight Contest
Blackledge was to face Elvis Dube but had a late change of opponent and now faced Scotsman Edgar.
Edgar's head was rocked back in round one as a confident Blackledge took charge. Both men were warned to 'watch the heads' in the second frame but again Edgar's head is snapped back from Blackledge's head-shot. Later in the round Blackledge is warned for hitting back of head.
Edgar doesn't look in great physical condition (almost a stone heavier than Blackledge) and seemed to tire quickly during the fight. Right on the bell to end round three – he takes a body-shot which sees his knees dip but he doesn't go down. Referee John Latham speaks to him in the corner during the break but – jumps in to stop the contest when he sees that Edgar is under pressure in the fourth.
Blackledge wins by fourth round stoppage and improves to 13 wins (5 by KO) and 1 draw. He faces Rudy Markussen in Denmark next month.
Edgar drops to 4 losses (2 by KO) no wins.
Kofi Yates (debut) (Wythenshawe) v Paul Haines (Manchester)
4 x 3 Light-Welterweight Contest
Popular Debutant Yates had a close first fight against Haines. The crowd gasped in round three as Yates fell to the canvas but it was just a slip and fighting resumed. Both men found success with head-shots but Yates gets the win on points 39-38 (Referee Steve Grey)
Haines drops to 4 losses no wins
Mike Stafford (Southport) v Simeon Cover (Worksop)
4 x 3 Cruiserweight Contest
Cover was late arriving because he was held up in traffic on the motorway.
Both men got off to a decent start but Cover had a bad habit of turning his back to his opponent which Referee Steve Grey warned him about. Stafford's fans were delighted to see Cover 'wobbled' in the third. Cover looked to have been caught off-balance and Stafford – seeing his chance – went in. There was more action in the fourth and final round but shots became sloppy.
Stafford wins on points 40-36 and improves to 11 wins (2 by KO) and 1 loss
Cover drops to 16 wins (4 by KO) 52 losses (15 by KO) and 2 draws.
Taz Apergis (Wythenshawe) v Sid Razak (Birmingham)
6x2 Welterweight Contest
Corfu-born Apergis dominated despite being up against experienced Razak, although the Birmingham man upped the pace in the final round.
Apergis wins on points 59-55 (Referee Steve Grey) and improves to 4 wins no losses, while
Razak drops to 8 wins (3 by KO) 103 losses (4 by KO)
Matthew Ryan (Middleton) v Gareth Piper (Cardiff, Wales)
4 x 3 Light-Middleweight Contest
An all-action contest between these two with increased work-rate in the fourth and final round – although both men were caught from punches which had become sloppy in the last.
Matt Ryan wins on points 39-37 (Referee John Latham)
Ryan notches up his third pro win of three while Piper drops to 1 win 2 losses and 1 draw
The Jamie Brown and Liam Taylor fights did not go ahead.