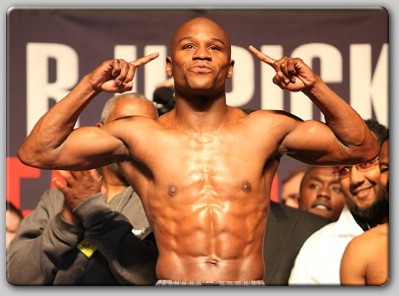 Within the past week it has been announced that the five weight world champion and boxing's undefeated and undisputed pound for pound king Floyd Mayweather, will step back up to Light-Middleweight to defend his World Boxing Association "Super" world title against the 22 year old Mexican starlet and World Boxing Council title holder Saul Alavrez at the MGM Grand in Las Vegas this coming September.
The fight, which will take place at a catch-weight of 10stone 12 lbs (152 lb), will only be Mayweather's third fight above Welterweight in his Hall of Fame bound career having been victorious against Alavrez's current promoter Oscar De La Hoya back in 2007, at the same venue in the biggest grossing contest in boxing taking $136million dollars in pay per view buys in 2.4million homes around the United States in which Mayweather earned $25 million dollars with De La Hoya who was promoting that match up earning a staggering $52 million.
With the large followings that both Mayweather and Alavrez in their respective ethnic groups etc it will attract it is highly likely that this record will be matched if not surpassed come September.
Mayweather steps back to Light-Middle after defending his WBC' Welterweight title in a near virtuoso performance against Mexican-American and two weight world champion Robert Guerrero in May of this year who was his mandatory challenger after defeating former title holder Andre Berto in November.
It will be his 22nd world title fight in five different weight divisions in a career in which all have tried and failed to solve the Mayweather enigma during Mayweather's 16 year career which has seen him defeat some of the greatest fighters of the last 20 years in the shape of Miguel Cotto, Juan Manuel Marquez, Sugar Shane Mosley to name but a few.
For the younger Alavrez fighting in what will be his 44th professional contest since turning professional back in 2005 at the age of just 15 years old, it will be be just his 7th world title fight all of which have taken place at the 11 stone division in which the stocky Mexican nicknamed "Canelo" or Cinnamon a reference to his red hair.
He has dispatched all comers in the shape of Mosley former European champions Ryan Rhodes and Matthew Hatton and world champions Kermit Cintron and in his last contest in April Austin Trout to unify the WBA "regular" title with his WBC title which he brings into this contest.
As well as the WBC trinket, Alavrez brings into this potential record-breaking contest a size advantage of one inch in height standing 5ft9 and will be seen as a more natural and stronger fighter at the weight having fought at Light-Middleweight since 2010 when he defeated Jose Miguel Cotto in May 2010.
While Mayweather has grown from a Super Featherweight into a Welterweight, although Mayweather has a two inch reach advantage of 72 inches to Alavrez's 70, which could see Mayweather looking to box and move against the bigger Alavrez and his superior footwork and defensive skills, although Alavrez displayed terrific upper body movement and fast hands to score a knockdown of Trout en route to taking unifying the titles.
Come fight night, which will be a guaranteed sell out between the self proclaimed cash cow and the young starlet, Mayweather will look use his footwork and superior championship experience to establish his superior championship pedigree.
But Alavrez who has been known to weigh up to 12stone 4lbs after rehydrating, will look to use his youth and superior size to pressurize Mayweather force him to pot shot against him.
It has the potential to a fight that can swing back and forth throughout the duration of the contest, but the superior championship experience of Mayweather should see his enigma remain intact.