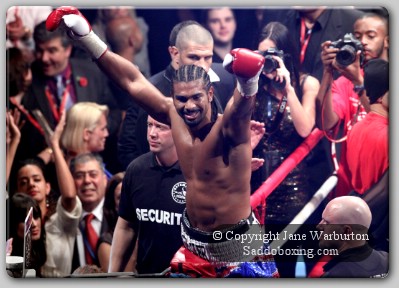 Reports have surfaced recently that two of Britain's top heavyweights, David Haye and Tyson Fury, may face off in all-British showdown later this year with the Manchester Arena being a likely venue for this potential clash.
Speculation has escalated over this potentially mouth watering pairing that would be one of the biggest all-British fights since Lennox Lewis squared off against Frank Bruno for the WBC Heavyweight title at the old Cardiff Arms Park back in 1993.
The year 25 year old Fury stated on Channel 5's live televised broadcast at the Glow Night Club in the Bluewater shopping complex that a deal between his promoter Hennessy Sport and Adam Booth, Haye's long-time trainer and manager, was 99.99% done and the fight was to happen later this year.
The match up, if it does occur, will provide an exciting combination of size, power and youth vs. experience with Haye standing at 6ft 3in and fighting around 15stone-15stone 10lbs [210-220 pounds] and Fury, who stands at 6ft 9in and fights at around 18stone [252 pounds].
It can also be seen as a potential crossroads fight for both Haye and Fury as they are both aiming for world title shots against the Klitschko brothers, who have ruled over the heavyweight division since 2008.
Both men are highly rated by the associated sanctioning bodies, with Fury ranked #2 by the IBF, #5 by the WBO and #6 by the WBC while Haye is ranked #1 by the WBA, #4 by both the IBF and WBO and #7 by the WBC.
It is a fight that if the older Haye should lose would pretty much his off his ambition of becoming a three-time world champion having been the Undisputed Cruiserweight titlist, before stepping up to Heavyweight and clinching the World Boxing Associations' version of the world title against the giant Russian Nikolai Valuev in Nuremberg before losing to the younger Klitschko.
A defeat for Fury would be a setback but would provide an interesting road to redemption route towards the Heavyweight title shot at the Klitschkos that he also dreams of.
Fury possesses the clear advantages of height, size and reach over the smaller Haye, but does possess the lower knockout percentage despite all of his stoppages occurring as a heavyweight since turning professional back in 2008, which was on he under card of Carl Froch's victory of Jean Pascal to win the World Boxing Council's Super Middleweight title.
Fury has knocked out 15 of his 21 opponents to date, albeit at a lower level in comparison to Haye, who has scored 24 knockouts in his 26 victories, with a record as a heavyweight of 7-1 with 6 knockouts.
These victories includes impressive stoppages over the normally durable John Ruiz and Dereck Chisora, who Fury defeated on a 12 round points decision for the British and Commonwealth Heavyweight titles.
Come fight night it is likely that Haye will look to start using his superior footwork and handspeed to prevent Fury dominating the centre of the ring and establishing his jab while attempting to work Haye's body.
Fury will likely attempt to tie Haye up on the inside and use his superior size to wear down the smaller man, while Haye will be looking to throw looping over hand rights to take advantage of Fury's low left hand guard, which has seen him get dropped by both Neven Pajikic and Steve Cunningham.
It has all of the ingredients of being an absolute classic, but will the ingredients leave fans wanting more or cursing if it does not happen?