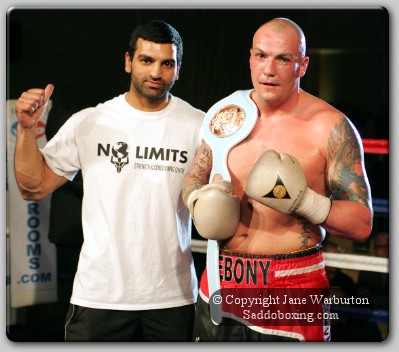 Click the Image for more Photos from Carl Dilks Vs Carl Wild Card
At the Floral Hall in the seaside town of Southport on Friday night, Carl Dilks of Liverpool won the vacant International Masters Bronze Cruiserweight Title by outpointing Carl Wild of Sheffield (80-72). Dilks was fighting for his first time at Cruiserweight but looked confident and aggressive throughout - despite easing off slightly in round six. Wild looked uncomfortable at the start of the seventh but his nose was bloody which may have been a distraction, though it didn't stop him landing some shots in the second half of the round. Dilks wins the Title on points.
Also on the Steve Wood – VIP Boxing promoted fight-night, popular Mike Stafford of Southport outpointed Elvis Dube of Derby over six rounds of Light-Heavyweight action (60-54).
Undercard Action:
Colin Farricker (Debut) (Liverpool) v Mitch Mitchell (Lincoln)
4 x 3 Light Heavyweight Contest
It was a great start to Farricker's pro boxing career when he had experienced Mitchell down twice in the opening round. The Lincoln man went down again in the third and the fight was stopped.
Farricker wins by TKO round three.
Scott Moonan (Southport) v Tom Price (Cardiff)
4 x 3 Welterweight Contest
Moonan dominated the first three rounds then seemed to get caught in the fourth, but he secures the win on points 40-37
Mike Robinson (Liverpool) v Joe Beedon (Swindon)
4 x 3 Lightweight Contest
Former Super-Flyweight Boxer Robbo was back after a 12 month break and a change in weight. He looked cautious against Beedon. Round two was a bit better for the Liverpool man as he came out more confidently but he was on the canvas in the third and his legs had gone to jelly. Unable to steady himself – Referee Steve Gray stopped the contest. Beedon gets his first win of ten.
Adam Machaj (Oswaldtwistle, Lancs) v Imantas Davidaitis (Lithuania)
4 x 3 Heavyweight Contest
'Heatseeker' Machaj had big support from the Walsall crowd as he entered the ring and promptly legged over the top rope (!) The six foot seven giant had his Lithuanian opponent on the canvas in round two and although Davidaitis got to his feet - the fight was stopped by Referee Phil Edwards.
Louis Cuddy (Liverpool) v Rolandas Cesna (Lithuania)
4 x 3 Cruiserweight Contest
Cuddy, aka 'El Campion', scored a 40-36 points victory over Lithuanian Cesna.
Ryan Moorhead (Liverpool) v Graham Fearn (York)
4 x 3 Lightweight Contest
Debutant Moorhead notched up his first pro win on points 40-36 over experienced Fearn.
Gary Ormrod (St.Helens) v Jamie Zaszlos (Barnsley)
4 x 3 Welterweight Contest
Ormrod sustains a cut in the second round and his work-rate dips slightly - allowing Zaszlos to catch him with the odd head shot, but he goes on to get the points win 40-37