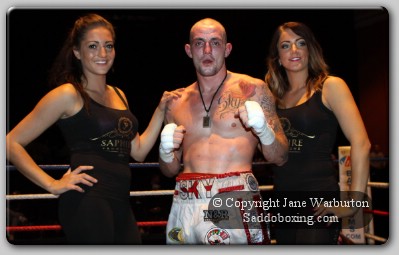 Click Image For More Photos Of Luke Blackledge Vs Philip Kotey
At a packed King Georges Hall, Blackburn, England, last night – Steve Wood (VIP Boxing Promotions) hosted a fight-night billed as 'Motown Showdown'. The ten card Bill headlined the vacant WBC International Silver Super-Middleweight Title between Luke Blackledge of Accrington and Philip Kotey of Ghana.
Blackledge was the busier and more accurate of the two men throughout the ten round contest. Kotey looked rather ungainly and wasn't as busy from the third round although he did get through the guard of Blackledge with the left on more than one occasion. Kotey began to flail his arms around in round eight which may have been to try and put his opponent off. The act annoyed the jeering crowd and although Blackledge looked bemused – he continued with the same focus.
Blackledge wins the Title on Unanimous Points Decision 100-91; 100-91; 100-91.
Undercard Results:
Stevie Taylor(Darwen) v Mitch Mitchell (Lincoln)
4 x 3 Cruiserweight Contest
Taylor on points 40-36
Derrick Grieve (Blackburn) v Dee Mitchell (Manchester)
4 x 2 Welterweight Contest
Draw 38-38
Atif Mushtaq (Nelson, Lancs) v Kristian Laight (Nuneaton)
4 x 3 Light-Welterweight Contest
'Mushy' gets the win on points 40-36
Ali Shah (Blackburn) v Simone Lucas (Nottingham)
6 x 3 Welterweight Contest
Shah Points win 58-57
Morgan Jackson (Blackburn) v Robert Studzinski (Llanelli, Wales, via Poland)
4 x 3 Middleweight Contest
Debutant Jackson had an eventful first contest with opponent Studzinski sustaining a cut to the left brow in round 2 and then Jackson finding himself on the canvas and counted in the final round.
But the Blackburn man gets 'off the mark' with a points win 39-36
Adam Machaj (Oswaldtwistle) v Kamil Sokolowski (Plymouth via Poland)
4 x 3 Heavyweight Contest
Machaj (aka Heatseeker) suffered his first loss in five to debutant – Polish born Sokolowski on points 39-38
Qasim Niaz (Blackburn) v Duane Green (Norwich)
6 x 3 Welterweight Contest
There was big support for Niaz who secured his sixth win of six on points 60-55 against last minute opponent Green.
AJ Faizy (Lower Darwen) v Mick Mills (Gillingham, Kent)
4 x 3 Light Welterweight Contest
Referee Mark Lyson stopped the fight in 2.36 min of round 3 with Mills taking too many punches and his face bloody from cuts to right brow (round 2) and left brow (round 3).
Faizy wins by third round stoppage.
Artif Ali (Accrington) v Joe Beeden (Swindon)
6 x 3 Super Featherweight Contest
Both boxers had to wait in the ring for approximately ten minutes after the opening round because a gap (spotted by Referee Alvin Finch) had appeared in the ring (boarding). The problem was fixed and the fight continued.
Ali wins on points 60-55
Kurt Grieve (Blackburn) v William Warburton (Atherton)
6 x 3 Welterweight Contest
Grieve touched down in the opening round and was counted.
Result was a draw 57-57